Inspirational David takes a leap of faith for charity
by MARY MAGEE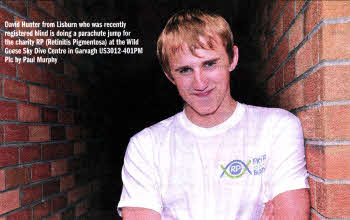 David Hunter from Lisburn who was recently registered blind is doing a parachute jump for the charity RP (Retinitis Pigmentosa) at the Wild Geese Sky Dive Centre in Garvagh US3012-401PM Pic by Paul Murphy
A 17-year-old boy from Lisburn robbed of his sight by a degenerative eye disease is to take part in a charity parachute jump to raise money and awareness of the condition.
David Hunter from Hilden Court suffers from Retinitis Pigmentosa (RP) - an inherited, degenerative eye disease which caused severe vision impairment and then, just six months ago, blindness.
He had been diagnosed at the age of eight but his eye sight worsened over the past two years worsened and at the end of last year he eventually lost his eye sight forever.
But the disease has not stopped him achieving many great things in his life.
He got seven GCSEs while attending Lisnagarvey High School, has just completed a NVQ in Business and Administration and is now planning to jump thousands of feet from an aeroplane in a tandem parachute jump to raise money and awareness for RP Fighting Blindness charity.
And as if that is not enough he is already planning to do a bungee jump and to abseil down the Europa Hotel.
David has been inspired by local blind world champion Janet Gray. "She is a real inspiration to me," said David. "I don't look upon jumping from an aeroplane as being brave, I just wanted to do something to raise money for charity and awareness about the condition.'
David and his mother are holding a flag day today (Friday) in Lisburn City Centre while the parachute jump will be on August 25 at Wildgeese at Garvagh.
David has been suffering RP since he was eight.
His mother Lyn explains: "We just noticed he was doing things that did not make sense. We thought he was just being a bit clumsy but I badgered his optician and told him that I felt there was something just not quite right."
It was soon after he was diagnosed with RP. His family were told he could eventually become blind but believed this would not happen until later in life. So they were not prepared for the suddenness of it and just how quickly the condition would affect David.
"We were told each person is different," said Lyn. "We were told it could be an aggressive form or it could take years."
Two years ago David's eye sight deteriorated even more and in December, 2011 he lost his sight forever.
But David, who often uses a cane, refuses to allow his disability from getting him down.
"I just get on with things," he said "I did my NVQ in Business and Administration, I left Lisnagarvey with seven GCSEs and I just do what I can. I miss some freedom but I have started to learn how to do things and most importantly do them on my own."
Wild Geese website https://www.skydivewildgeese.com/
Ulster Star
27/07/2012