Businessman sentenced for causing death by careless driving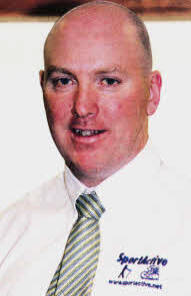 Davy McCall
AN English businessman who admitted killing top Lisburn road racing cyclist Davy McCall in a fatal smash has been freed on a suspended 18-month prison sentence because of time already served.
Michael Gerard Croome was hurrying to catch a flight from Belfast's International Airport on August 12, 2008 when his black Peugeot 308 car hit the bike of the 46-year-old Commonwealth Games medallist who was taking part in a road race.
Antrim Crown Court Judge Corinne Philpott QC accepted that the tragic accident was caused by a dog which had ran into the path of the cycle of Mr McCall, described by the judge as "a popular man, a family man in the prime of his life".
Judge Philpott told Croome, a 29-year-old former call-centre worker, the accident may have been avoided if he had given himself more room when passing the racing cyclists, who were in clear view, riding straight, holding the line".
"But of course you had not allowed sufficient room for either eventuality."
Judge Philpott said Croome had not been prepared for the unexpected. She added that as such she "did not accept that this was a pure accident in that sense".
Earlier she had also told Croome he was "someone who drives in a manner to suit yourself and other road users have to take actions to avoid you".
"There is a pattern to your driving ...you do not pay sufficient attention to the speed limit," said Judge Philpott, who suspended Croome's jail term for two years.
Judge Philpott also banned "a reluctant" Croome for three years, and told him she did not know why it had taken him so long to accept his guilt. Croome, who had an address on Belfast's Cliftonville Road but who also lived in Priory Wharf, Chester, was originally jailed for five years for causing Mr McCall's death by dangerous driving.
He served 10 months of that term before his conviction was overturned and a new trial ordered and last December the prosecution accepted a plea to the lesser charge of causing death by careless driving.
The prosecution had told an earlier court hearing that Croome was driving his car too fast or close to the cyclists as they raced along the Belfast Road at Nutt 's Corner.
In the collision the father-of-two was thrown into the air and his cycle snapped in two. Croome had been on his way to catch a flight to Liverpool at the time.
Lisburn-based Mr McCall, who had represented Northern Ireland at major international competitions for decades, had just completed the first lap of the nine-mile course in the road race between Maryland Wheelers and the Phoenix Cycle Club.
At his original trial, Croome made the case he was driving at between 40 and 50 miles an hour and that the accident occurred after Mr McCall veered into his path while avoiding a small black dog which ran onto the road.
Ulster Star
16/03/2012