Church packed for funeral of teenager knocked down near his home
by MARY MAGEE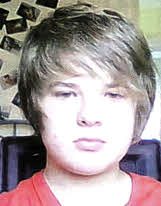 David Preece who was killed in an accident while walking home.
Family and friends carry the coffin of David Preece aged 15 during his funeral at St Patrick's Church in Donacloney
TRIBUTES have been paid to a teenage boy, originally from Maghaberry, who was tragically knocked down and killed in Donacloney on Friday night.
David Preece (15), or Dee Dee as he was affectionately known, was a former pupil at Maghaberry Primary and Lurgan humor High and had been studying for his GCSEs at Craigavon Senior High School. He and a friend had been walking home single file from a shop near his home at Blackskull when David was struck by a car around 11pm.
His father Michael arrived quickly on the scene and tried desperately to resuscitate his son. Medics also worked to revive David, but he was pronounced dead in the early hours of Saturday.
Mr Preece said his lasting memory of David would be as a "brilliant, happy-go-lucky fella".
"He loved anything to do with IT or gadgets," he said. "He had his own website and would buy things at a certain set price and then sell them on for a bit more.
"Any of the money he made he would take and add to his pocket money for buying clothes like Hollister and Superdry.
David is survived by his father Michael his partner Helen, his mother Diane, twin sister Aimee.
At his funeral service in St Patrick's Parish Church, Donaghcloney, on Tuesday afternoon the Rev Bryan Martin described him as "no average teenager".
"David was a happy, handsome, wee lad who from an early age loved his gadgets — iPods, iPads, computers, you name it, he worked it," said the Rev Martin. "From an early age through Maghaberry Primary School, then Lurgan Junior High and latterly Craigavon Senior High, David loved IT.
"But David was no average teenager. He was dreadfully protective of his twin sister Aimee, he adored her and she him — how many teenage brothers would make their sister breakfast in bed and bring in her tea just the way she liked it?"
The Rev Martin said the teenager had ambitions to become pilot.
"There was a softer side to David, one that appreciated creation. He loved Aimees dog Harvey and it was fitting that Harvey was able to say goodbye to David at the funeral home. He loved wildfowl and especially loved to watch the ducks as they swam on the Lagan or flew overhead.
"Maybe it was his love of birds that led to another hope and passion in his life, flying. David had already applied to Belfast International Airport to help with air traffic control — they had told him to work hard at his education,
"David had hoped that would have helped with his passion to be a pilot, first as a fighter pilot and then as a commercial pilot. He had big plans, and if his entrepreneurial skills were anything to go by, I say he would have made it.
It seems so cruel that those boyhood dreams — that that boy - has been stolen from us in a tragic accident.
"Walking home from the shop on Friday night, David and his friend were making their way back to Blackskull, walking single me up the Donaghcloney Road. His dad had called him and checked if he was okay — 'I'm halfway home, see you in 10 or 15 minutes'. "It is so hard that we are here as we come to give thanks for this wonderful brother, this wonderful son, grandson and friend."
Ulster Star
11/05/2012