Lisburn mum helps to launch £10m partnership to tackle cancer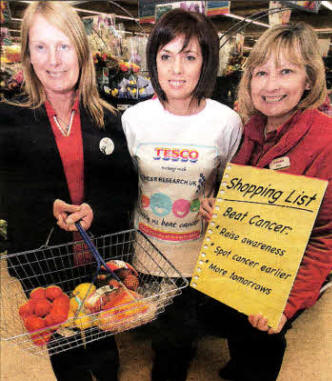 Debbie Cocking helping to launch the Tesco Charity of the Year with Ann Broome and Sue Kelly of Tesco. US1112-137A0
A LISBURN mother who watched her young daughter Georgia battle leukaemia, has helped launch a ground-breaking £10 million collaboration between Cancer Research UK and Tesco as a new survey revealed alarming ignorance of cancer symptoms in Northern Ireland.
Debbie Cocking joined staff at the Lisburn Tesco store to signal the start of the Charity of the Year partnership. Tesco will raise £10 million to fund 32 early diagnosis research projects across the UK, including Northern Ireland, and will launch a new in-store customer awareness campaign.
Cancer Research UK leaflets on the early signs of cancer will be on display at store checkouts.
Georgia, who loves singing, dancing, acting and sport, was just four years old when she was diagnosed with Chronic Myeloid Leukaemia. She had to fly to Bristol every three months for treatment, but thankfully is now well and enjoying life to the full.
Debbie backed an ambitious 'shopping list' of goals for the two organisations, with helping to 'beat cancer' firmly at the top.
"I'm so excited to be launching this partnership between Cancer Research UK and Tesco," said Debbie.
"Georgia is one of the lucky ones. All too often cancer is detected further down the line when effective treatment becomes more difficult. If you have an appointment, please keep it — or if you have any worries please see your doctor - it could save your life," she added.
The launch coincides with the publication of Cancer Research UK's new survey, which has been funded by Tesco. It reveals shocking results for Northern Ireland.
More than three quarters of people asked to list possible warning signs and symptoms of cancer failed to mention pain. And similar numbers failed to mention coughing or problems with bowels or bladder.
Debbie believes the new partnership is a really positive step forward which could help more people like her survive cancer and go on to spend more tomorrows with their loved ones.
She said: "By funding research into earlier diagnosis and raising awareness among their staff and customers, Tesco and Cancer Research UK will be helping more people like me have more time with their families.
"My advice to anyone is: 'listen to your body' and if you are experiencing any unusual symptoms get them checked. We are all so busy these days, it can be hard to find the time, but it is so important."
Ulster Star
23/03/2012