Declan joins local family to mourn aunt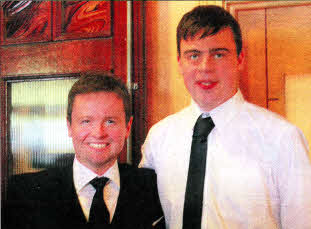 Declan Donnelly with James Henry.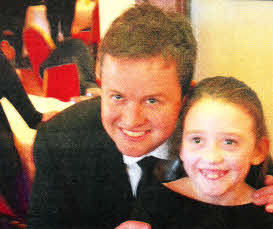 Declan Donnelly with Katie Henry.
TELEVISION presenter Declan Donnelly, one half of cheeky chappie duo Ant and Dec, was in Glenavy recently for the funeral of his late aunt.
Despite his star status he was just one of the crowd paying his respects.
But eagle-eyed mourners recognised Dec - or Declan as he likes to be known - after the service and gave him a warm hug or kiss. And he showed he really is just like his TV image as he was as charming and funny with time for everyone.
The funeral took place on May 16 at St Joseph's, Chapel Hill, and Declan was there along with mother Anne. Helping with the service was his brother Dermott, a Roman Catholic priest.
At the family dinner at the Ballymac Hotel afterwards Declan, best known for TV shows like I'm a Celebrity Get Me Out of Here, Push the Button and Britain's Got Talent, had the opportunity to catch up with family and friends.
Katrina Henry, married to Declan's cousin Michael from Crumlin, said he was as charming and down-to-earth as ever.
He posed for photographs with many others including her children James (16) and Hannah (14) who both attend Antrim Grammar, and Sara (10) and Katie (8) pupils of St Joseph's Primary in Crumlin.
Katrina first met Declan before he reached super star heights.
"I met "him around 18 years ago at his and Michael's grandmother's funeral in Draperstown when he was in Byker Grove," said Katrina.
"We didn't see him again until about six or seven years ago when he was over on a trip with his parents. That is when he met my youngest daughter Katie who was only two at the time and she got pictures taken with him.
"He had remembered her because she followed him about hugging and kissing him. Katie tortures him but he still remembered her and told her they needed to update their pictures on Facebook.
"I saw him again at ITV studios when I went with Michael's sister Maureen to Saturday Night Takeaway as his guests.
"He is so down-to-earth. He is so normal and we have a good laugh. A few people mentioned talking to him and could not get over how down-to-earth he is.
"There are definitely no airs and graces with him. He is just a normal guy beneath the celebrity status."
Declan came to prominence in the children's drama series Byker Grove, when he first teamed up with Anthony McPartland at the age of 12.
Since then both have enjoyed highly successful careers as TV presenters. Declan's parents are originally from Draperstown but moved to Newcastle in 1958.
Ulster Star
08/06/2012