Staff get on the run for local charity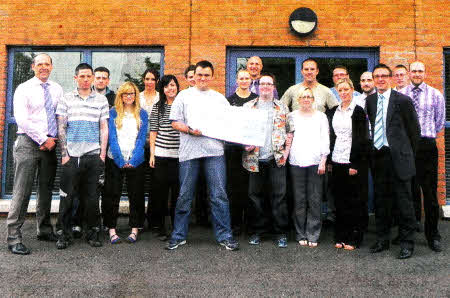 The team from Decora Blinds Systems with Andrew Marks and Richard Boone from Stepping Stones.
STAFF from Decora Blinds Systems in Lisburn took a fit and healthy approach to fundraising, as they recently joined staff and trainees from local charity Stepping Stones to take on the challenge of the Lisburn 10K, Half Marathon or Fun Run, to raise much needed funds for this worthy cause.
The intrepid runners raised an impressive £2,800 for the charity.
Stepping Stones provides adults with learning disabilities and learning difficulties access to accredited training towards employment — developing their skills in preparing for interviews, maintaining a work placement to name but a few, ultimately helping them achieve employment.
Business Development Manager of Stepping Stones, Cara Cash, said: 'Fundraising is essential to help sustain the training and employment services for people with learning disabilities and learning difficulties we deliver. The support of a forward thinking and progressive local employer such as Decora is wonderful for us, and we appreciate their contribution."
Brian Loughridge, General Manager at Decora Blind Systems added: "Decora and Stepping Stones share common goals as we are both all about innovative ideas and trying to develop, but most importantly making a difference.
This is one of the reasons that the staff decided to go for this as a fundraising activity, as well as the fact that it brings people together in a fun activity We have been working with this charity for a number of years, and feel it is important for Industry to work with local charities to give something
back - so we were delighted to be able to help raise vital funds to support the excellent work of Stepping Stones"
If you would like to fundraise for Stepping Stones NI please contact Cara at Stepping Stones NI 92 667124 or email Cara.Cash@steppingstones.org.uk
Ulster Star
20/07/2012