79 new jobs as Lisburn blinds company defies the recession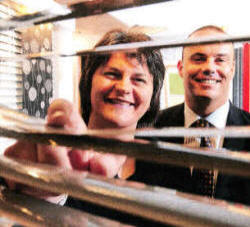 Enterprise Minister Arlene Foster with Stuart Dickson, Managing Director of Decora. Picture: Michael Cooper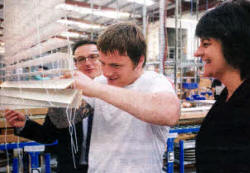 Alistair Speer of Decora, employee Mark McCutcheon and Enterprise Minister Arlene Foster. US1712.108A0
THERE was good news on the jobs front this week when it was announced that a Lisburn firm which makes window blinds is creating 79 jobs.
Decora Blind Systems is investing more than £2m over the next two years, supported by additional funding of £237,000 from Invest NI.
The firm, which started as a small family-owned business in 1979, currently employs 377 people.
Managing director Stuart Dickson said they aimed to strengthen their manufacturing capabilities.
He said this included "the high-end home automation market", and the investment would also develop their ability to provide wholesale customers with bespoke systems. "Over the years we have received a range of support from Invest NI, which has helped us with technical issues, product development and marketing," he said.
"This latest support ensures we can move quickly to put jobs in place and continue to build on the company's market share."
Mr Dickson also said it was nice to show that a Northern Ireland company can compete in the international market and take the industry forward.
"The character of the Northern Ireland workforce is resilient and we just keep plugging away" he said.
Mrs Foster said: "Decora's success has been characterised by continuous innovation that has led to it becoming a successful and established brand in the UK.
"The development of new product lines and increased levels of marketing will support the company's aims of further growth.
Decoras clients include some of the largest independent blind companies in the UK.
The Mayor of Lisburn Councillor Brian Heading said he was 'delighted' by the news. "At a time when there is deep unemployment and on a day when it was announced that the UK is entering a double-dip recession, it is fantastic that here in Lisburn, we are aiming for growth and delivering on jobs" he said.
"I look forward to seeing Decora continue to move from strength to strength, putting Lisburn on the map not only in these islands, but further afield."
Ulster Star
27/04/2012