MP visits Falkland Islands ahead of anniversary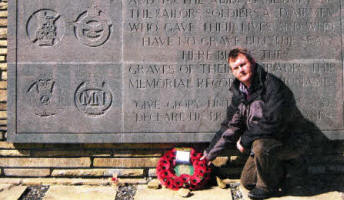 The Defence Committee laid a wreath at the memorial in the Military Cemetery at San Carlos Bay which contains the graves of a number of British Soldiers killed in action in 1982.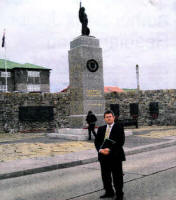 Lagan Valley MP Jeffrey Donaldson at the Memorial In Stanley to the Fallen of the 1982 Falklands War.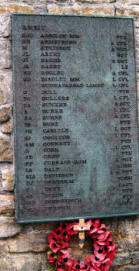 The Memorial tablet in Stanley including the name of L Cpl Anthony Cork of 2 Para, killed in action on Darwin Hill near Goose Green and buried in Blaris New Cemetery, Lisburn.
LAGAN Valley MP Jeffrey Donaldson has recently returned from a visit to the Falklands Islands with the Defence Select Committee, just ahead of the 30th anniversary of the war to reclaim the islands from Argentina.
"The purpose of the visit by the Committee was to assess the strength of the defences on the Falkland Islands in the event of another attack by Argentine forces," explained Mr Donaldson.
"It had been 13 years since the committee last visited and with the recent rhetoric emanating from Argentina, it was important to ensure the UK is not caught out the way it was in 1982 at the time of the last invasion.
"I was pleased to find the military, naval and air defences in place on and around the Islands are good, although there is always room for some improvement." During his visit Mr Donaldson met with representatives of the Falkland Island government, who, he said, were concerned about the threat of another attack from Argentina, making it clear they are "determined in their resolve to uphold their right to self determination."
Mr Donaldson also paid tribute to those who had died defending the Falklands, and took a moment to remember L Cpl Anthony Cork of 2 Para, who is buried in Blaris New Cemetery in Lisburn.
"We in Northern Ireland understand the situation faced by the people in the Falkland Islands and I was therefore happy to reassure the representatives of the Island we are standing with them in their determination to uphold their rights," he added.
Ulster Star
06/04/2012