Mayor raises awareness of door to door transport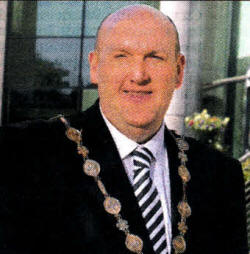 Alderman William Leathem
THE Door to Door Transport service, provided by the Department of Regional Development, is available for people who need to be able to go about their business, but have difficulty using mainstream public transport.
The Door to Door Leaflet sets out how you can use the service under certain criteria, and you must apply directly to DRD for Door to Door Transport enquiries.
Door to Door Transport can be an invaluable aid.
Services are provided throughout Northern Ireland to allow people who meet the criteria to go about their business, whether that is work, going to the hairdresser, going to the bank or to see family and friends. Lisburn City Council Mayor Alderman William Leathern, said: "I would encourage anyone who has difficulty or issues using public transport to get hold of the Door to Door leaflet from the Department of Regional Development.
"There is a list detailed in the leaflet of what is applicable in order for a person to qualify for the Door to Door service, which is essentially a bus which takes you where you need to go.
There is a small fee for each trip you make with Door to Door transport, with the first trip being free. "Services run every day of the week from 7.30am to 11.3Qpm.
"If you know someone that you think would benefit from this service please check it out and see," he continued.
"We all need to be able to get out and about and getting out does us good.
If you are very limited in your transportation options due to one reason or another, the Door to Door service could be the very answer needed," he added.
The criteria for being able to use Door to Door Transport is set out in the leaflet and Door to Door can be contacted on 0845 9800 800.
Further information is available on www.door2door-ni.info
Ulster Star
19/10/2012