Ace! Downshire Tennis Club approval is celebrated
by STACEY HEANEY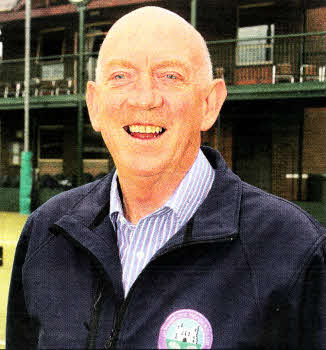 George Lucas of DownshIre Tennis Club. US3112-114A0
PLANNING approval for new tennis facilities at Downshire Tennis Club has been welcomed. After years of discussion, the club has now been served up an ace with the news that work can soon get underway on two new state of the art courts, temporary clubhouse and an inflatable cover after the application was unanimously approved at the council's Planning Committee meeting on Monday evening.
Downshire Tennis Club's Chairman George Lucas said he was delighted with the news.
"The club is grateful to all the councillors who have conveyed messages of support, and their acknowledgement of the roll Downshire Tennis Club makes to the local community" George said. "Councillors Paul Givan and Paul Stewart have been very supportive over the past year in discussion with planners.
"Planning approval now allows us to appoint a project team to develop tender documents for the construction of the new facilities. Once this process is complete and prices obtained, the club can seek grant aid, continue to fundraise and firm up on a timetable for the project, likely Autumn 2012," he added.
Welcoming the go-ahead for the new facilities on the Old Coach Road, Hillsborough, Alderman Paul Givan and Councillor Paul Stewart, Vice-Chairman of Planning Committee, said the decision was a 'welcome boost' for local sport.
In a joint statement they commented, "The unanimous approval of this important planning application at the Planning Committee of the Lisburn City Council demonstrates the support that is present for this intelligent move forward by Downshire Tennis Club. This decision is a wise one that will bring about job creation in the construction industry through the proposed facility.
"The go ahead to commence construction work will advance the capacity of not only Downshire Tennis Club but of tennis facilities within Lisburn. This is a very welcome boost for sport locally and we thank fellow councillors for endorsing this application which we have lobbied Planning Service about for the past number of years."
George added: "The club continues with its outreach programme, August coaching camps for children from 3 years to 18, which also continue after school from September to December. The club also runs a variety of coaching programmes so whether you aspire to be like Andy Murray or just want to get fit and have fun, come along to Downshire Tennis Club or visit www.downshiretennis.co.uk."
stacey.heaney@ulsterstar.co.uk
Ulster Star
10/08/2012