From Dragons Den to Dragon Boats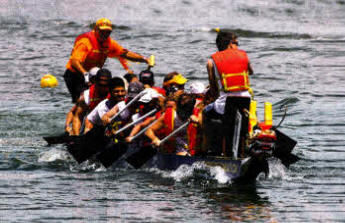 Lisburn organisations are being targeted by Friends of the Cancer Centre as it is running its first Dragon Boat Race on Saturday August 25 an activity that will make for a great team building activity.
LISBURN organisations are being invited to take part in an oriental style adventure this August Bank Holiday weekend — a Dragon Boat Race on the Lagan, a fun fundraiser for the local Friends of the Cancer Centre charity.
At just a tenner a head this has got to be one of the most cost-effective team building exercises around," says Colleen Shaw, Director of Friends of the Cancer Centre, about the waterborne challenge on Saturday, August 25 2012.
"We're inviting any organisations — private, public or voluntary to be part of the fun. We see it as a really enjoyable, yet valuable, team building challenge, designed to raise smiles, spirits and corporate profile ... and funds for our charity, Friends of the Cancer Centre!"
The event organisers will provide the boats, the briefing, the safety equipment and even a free barbeque for all participants for an all-in registration fee of £10 per person. Teams of any size are welcome, but please note that there's a maximum of 17 per boat so smaller teams can expect to join with others and forge some instant friendships over the oars! No previous experience is necessary.
The race will start from the Belfast Boat Club on the River Lagan and will cover a stretch of water of approximately 250m in length.
Colleen concludes, We're asking the public to provide the people and, hopefully, they'll generate sponsorship, aiming for a minimum of £50 per person. Together we will create a great day's craic and give vital, tangible support to cancer patients and their families."
To register a team and find out about how to make this August Bank Holiday memorable for you and your colleagues contact Kelly on 028 9069 9393 or info@fiiendsofthecancercentre.com
Ulster Star
20/07/2012