Explosion in Dundrod hayshed `lit up night sky'
by MARY MAGEE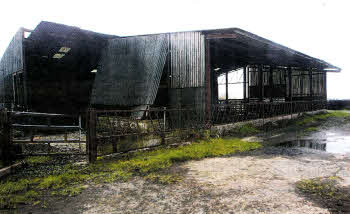 The scene of a huge fire in a shed on the Knockcairn Road in Dundrod US0612-115A0
AN explosion which 'lit up the night sky' on Friday night in Dundrod burning acetylene cylinders in a hayshed.
The roof and walls of the agricultural hayshed on the Knockcairn Road were blown off and remnants of the shed were found by firefighters in a nearby field the following morning. The explosion was so intense it also engulfed two cars and a van which were located inside.
Initially 27 fire fighters from Lisburn, Springfield, Whitla, Antrim, Glengormley, Central, Ballyclare, Knock and Cadogan Fire Stations as well as the Fire Emergency Support Vehicle attended the scene. Some spent hours tackling the fire and securing the scene while other appliances and officers remained at the scene for over 15 hours until nearly 11am the following morning.
North Area Commander Mark McGranaghan said the explosion was so intense it 'lit up the night sky.
He said that as there were gas cylinders in the building special procedures had to be put in place to secure the area.
He said when crews arrived at the scene occupants of a nearby house were able to give them a clear indication of what was inside the shed.
Once it was established there were acetylene cylinders affected by the fire, that added to the difficulty of bringing the blaze under control. Though a cylinder exploded and damage was caused to the shed there were no injuries to personnel dealing with the incident.
Due to the severity of the fire a stable with five horses had to be evacuated and they were moved to safety in a nearby field.
"We took appropriate measures to ensure that the other cylinders did not explode," he said.
"If we had not taken the appropriate action there is no doubt others would have exploded. Bits of the roof and walls were found the next day in a nearby field by fire crews who came back to the scene to ensure the cylinders had cooled properly."
Ulster Star
10/02/2012