Lisburn bookworms to benefit from free downloadable eBooks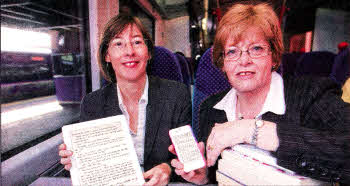 Catherine Mason, Translink Group Chief Executive with Irene Knox, Chief Executive of Libraries NI
TRANSLINK and Libraries NI have partnered to help bus and rail passengers make the most of their leisure time whilst travelling, by jointly promoting a new, free downloadable eBooks service.
This online facility enables Lisburn library members to access over 30,000 free eBooks from the virtual library 24 hours a day, seven days a week without the hassle of returning books and no overdue charges to pay.
Catherine Mason, Translink Group Chief Executive said: "We are delighted to be working in partnership with Libraries NI and through this service are helping passengers to travel light and make the most of their personal time on board our bus and rail services.
"With Northern Ireland having the highest mobile phone penetration in the UK at 92% and more people using mobile devices to read or listen to music, the new eBooks offering will make public transport an even more attractive travel option.
'With fuel costs continuing to rise and increased car parking fees, public transport provides a better travel solution and not only does it offer good value for money it also helps save time by avoiding rush hour traffic, allowing people to relax.
We are teaming up with Libraries NI to enable passengers to use this free time to access eBooks, whether for leisure or learning purposes.
There are thousands of titles to choose from and they can be downloaded to most eBook readers and handheld devices, including some mobile phones, as well as to personal computers so I'd like to encourage passengers to sign up and try this free service."
Irene Knox, Chief Executive, Libraries NI said, "By partnering with Translink, we are encouraging more people to read books with an eBook reader, which is the ideal way to enjoy your favourite reads, while travelling.
If you love reading but are too busy to get to a library to choose your books and want to read on the move without having to worry about returning them on time, then eBooks are the perfect solution. You can download up to nine eBooks and have them for three weeks, after which they will just disappear, so no fines can be incurred for late returns.
"By using eBooks on your Translink journey, you can use your time more effectively by reading for fun or for information while travelling and you can also download books during your journey, by logging onto the Libraries NI website." Library membership is free for everyone, so if you'd like to become a library member and gain access to a 'virtual' library of free eBooks call into any local library to sign up or for further information please visit: www.librariesni.org.uk/ebooks
Ulster Star
04/05/2012