Love one another and thank God daily for his blessings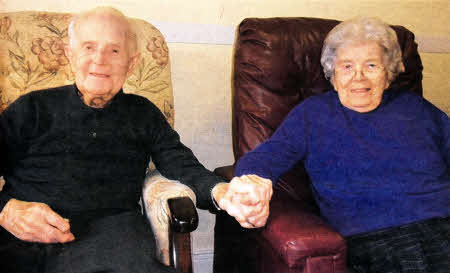 Edgar and Lavinia Boyd who celebrated their 72nd wedding anniversary
Edgar's advice for a happy marriage as he and Lavinia celebrate 72 years
WHEN A lovestruck assistant minister from Belfast saw a picture of a striking young woman he made it his mission to find her and marry her.
Seven decades later Edgar Boyd not only married his true love Lavinia but the pair have now celebrated their 72nd wedding anniversary.
98-year-old Edgar and his 97-year-old wife Lavinia celebrated the special event on September 4 at Kingsway Private Nursing Home in Dunmurry where they both live, surrounded by friends, staff and residents.
And the secret to a long and happy marriage according to Edgar is, "Just to love one another and pray daily to thank God for all the blessings in life." It was love at first sight when a young Edgar saw
Lavinia's picture at a friend's house and made it his mission to pursue her until she became his wife
New Zealand born Lavinia, came to the United Kingdom at the tender age of four. She went to Methodist College and then trained and worked as a Home Economics teacher.
Edgar was born in Belfast and attended BRA then studied at Queens University Belfast for the ministry. He spent a year in Princeton USA around the year 1937. He was ordained in 1940 in Harryville Presbyterian Church, Ballymena.
It was when Edgar first saw a picture of Lavinia at a friend's home and knew that he wanted to meet her. Edgar was working as an assistant for Cooke Centenary Church and during his visit to Lavinia's
aunt and uncle's house he saw a picture of Lavinia on top of the piano and he instantly fell in love.
Edgar made it his business to find out who the beautiful lady was and met Lavinia through Church.
In 1940 Edgar was ordained, and he married Lavinia in the same year.
The couple had three children, 8 grandchildren, and four great-grandchildren.
In 1953 they moved to Terrace Row Presbyterian church and stayed there until his retirement in 1979. He was then chairman of the Butcher Housing Association, now called Oaklee and retired from there when he was approximately 80 years of age.
Ulster Star
14/09/2012