Historic building is brought back to former glory
by MARY MAGEE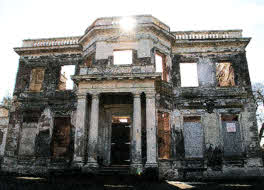 Eglantine House before the restoration.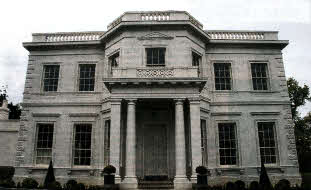 Eglantine House following the restoration.
ONE of Lisburn's best-known historic buildings, which was badly damaged in a fire 12 years ago, has been rescued thanks to financial assistance from the Northern Ireland Environment Agency.
Eglantine House at Hillsborough, which was virtually destroyed the blaze in September 1990, has been restored to its former condition with listed building grant-aid from the Agency's Historic Buildings Grant scheme. Dating from 1800, the building was refurbished in 1845 to the design of renowned Belfast architect Sir Charles Lanyon.
Welcoming the completion of the project, Environment Minister Alex Attwood said: "The remarkable transformation of this building — from roofless shell to an elegant country house — is a good illustration of how the grant scheme can help to rescue our most important buildings. Eglantine House has not only been restored to its former glory but has also been rescued for future generations. I commend the grant scheme to owners of listed buildings requiring regeneration.
"Projects such as this can also provide much-needed work for the construction industry.
"We owe it to future generations to ensure that listed buildings, of which there are approximately 8,500 in Northern Ireland, are protected and enhanced".
Adrienne Smyth of The Boyd Partnership Chartered Architects who worked on the project said: "It was a pleasure to be involved with the project and to see the reinstatement of the house as a family dwelling. "
Ulster Star
08/06/2012