Emma's birthday bash raises over £1,300 for Action MS
by MARY MAGEE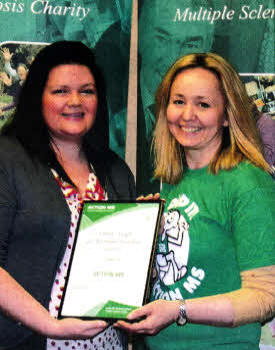 Emma Creagh and Patricia Webber of Action MS.
LISBURN woman Emma Creagh wanted to mark an most important milestone of her life in a different way.
So when Emma, from Ruskin Heights, turned 30 in January, she celebrated her birthday by asking friends and family not to give gifts but instead donate money to Action MS.
Emma threw a party which included a pub quiz, raffle and disco as part of her birthday bash at Lisburn Rugby Club and raised £1,300 for the charity.
Emma's husband James was diagnosed with a less severe strain of multiple sclerosis in August 2010, three months after they wed. So she wanted to follow in her parents' footsteps and ask friends to give money towards the charity instead of receiving gifts. Her parents had celebrated milestone birthdays some years ago at what is now Robbie Cahoon, and raised money for Northern Ireland Hospice.
"I wanted the focus to be less about me but more about raising money for the charity" said Emma. 'I have my own house and I have everything so I thought instead of people buying gifts for me they could simply give that money to charity.
"My father is a huge pub quiz fan so he arranged that and my uncle did the disco.
I was astounded by the generosity of everyone - friends, family and the local community here in Lisburn. I would like to thank all the Lisburn businesses who so generously donated prizes for the raffle on the night of the party at the Rugby Club.
All my family and friends have been amazing - not only did we have a fantastic night but Iain so pleased that we could raise so much for a great local charity."
Ann Walker, Chief Executive of Action MS said: "Emma, her husband, family and friends put in so much time and energy to make the party a big success for their guests and also for local people living with multiple sclerosis. Action MS would like to thank everyone involved. This wonderful donation will help us support people here in the Lisburn community.
"We simply could not offer any of our services without this kind of generous support as we receive no government or statutory funding. Yet many people living with MS here in Lisburn and across the province have complex needs and their quality of life depends upon these being met sensitively and professionally. The support of Emma and her family and friends is invaluable to Action MS."

Ulster Star
27/04/2012