Last day for school which served the community for over 40 years
by MARY MAGEE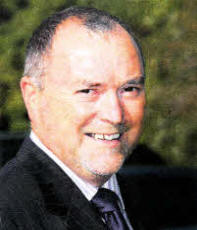 Principal Mervyn Magee
A CHAPTER in Dunmurry's history will come to an end on Friday when the doors will be closed for the very last time on the high school which has served the area for over four decades.
Dunmurry High School, which first opened 44 years ago, will officially close but some of the pupils have already left and to mark the historic occasion a reunion was held at' the school grounds recently when 400 past pupils were given the chance to walk around the grounds and reminisce.
They then headed to the Beechlawn Hotel for a special event which was organised by former pupil Paul Bennington and a small committee. Earlier in the term, an emotional special assembly was held where pupils were given attendance awards and prizes.
Principal Mervyn Magee said that Friday will be a sad day for all those connected with the school that has been held in such high esteem for so many years and been a focal point for the Dunmurry community.
"We are all very disappointed at the decision made about the closure there is no doubt about that," said Mr Magee. "It has been an emotional time for many."
Education Minister John O'Dowd announced in April the school would finally close in June. Many of the 21 teachers were successful in gaining employment in other schools while five, including Mr Magee who has been at the school for three years, are to retire. Some of the other staff took redundancy packages.
The pupils will all be starting other school, from September.
"It will be a sad and emotional day," said Mr Magee. "We had an excellent reunion in the school for past pupils. "There were tears from the pupils who have already left for the last time and no doubt there will be one or two from the staff who are getting ready to leave. Some staff who have been with us for nearly 30 years. It is also a sad say for the community to lose such a school.
"This month has been busy with pupils continuing to focus on their studies and still coming in to do their GCSE exams.
Personally I would like to wish the very best of luck to all the teachers and staff as they continue with their chosen careers and the pupils in whatever the future holds for them. "This has been a fabulous school and a tremendous place and one that we will all miss very much."
---
End of an era as proud ex-pupils get a final look around
Dunmurry High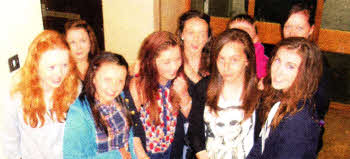 Pupils at Dunmurry High School's special open event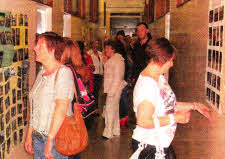 Past pupils visit Dunmurry High School for the last time.
HUNDREDS of former pupils have returned to Dunmurry High for one last look around the school before it closes this week.
The special evening was organised by a group of students who were among the first to attend the school, and those present had the opportunity to look at hundreds of photographs on display throughout the building. Most importantly, they were able to renew old acquaintances with the pupils and staff with whom they spent "the best days of their life".
After the visit around the school, the "pupils" moved on to the Beechlawn Hotel where they enjoyed a buffet supper, getting a further opportunity to hear about each other's lives since they all went their separate ways.
The school's Vice Principal, who was also on the organising committee, Mr. Maurice Warnock, commented: "It was clear from the huge turnout that Dunmurry High School holds a very special place in all of their hearts.
"It was lovely to hear how well they have all done and many said they would not be the people they are today had it not for the school. The vast majority have gone on to university with many attaining Masters Degrees and Doctorates. Others have opened up their own businesses or are gainfully employed despite the economic situation in which we now find ourselves.
"What is clear is that Dunmurry High School did not fail them, and if one thing came across on the evening it was how sad everyone felt about the school closing.
One girl, who was close to tears, said: "I've just given birth to a beautiful daughter, and it saddens me to think I'll never be able to show her where her mother got her education. "Dunmurry High was more than bricks and mortar to me. It was the place where I made many friends, including teachers, and it's been lovely meeting many of them this evening. I'll always be proud to say that I was a pupil at Dunmurry High School and I'll never forget it"
Many pupils expressed similar sentiments and the evening turned out to be emotional and moving, but also a humbling experience. "It reminded the staff how privileged we all have been to be involved in the lives of so many young people over the years and how we have, despite at times not realising it, helped in some small way to improve them for the better" Mr Warnock said.
"We would like to wish everyone who attended the school all the very best for the future. Hopefully our current pupils will settle in quickly to their new schools and make the most of their opportunities. We will be thinking about them.
Dunmurry High School would like to thank everyone who has helped support it over the last 44 years. In addition to the many parents who entrusted the school with the education of their children, many employers accepted pupils on work experience or sponsored events which included drama productions. Local primary schools have supported the school.
Finally, the school thanked Paul Bennington and his Committee who helped to organise Friday's events and who have helped the school in so many ways, in the past as well as recently.
Ulster Star
29/06/2012