Fashion and rock music unite for charity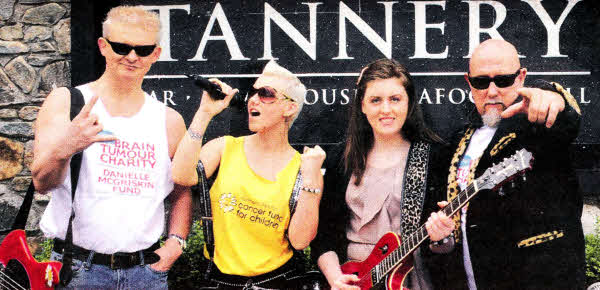 Fashion will fuse with rock music at Moira's Tannery restaurant next month for Fashion Rocks. Kicking things off is Ray Haller from the Red Hot Roosters, Pink tribute act Alicia Karr, event organiser Danielle McGrisken and Rob Rooster from the band.
FASHION and rock music will unite next month at The Tannery in Moira to raise funds for NI Cancer Fund for Children and The Brain Tumour Charity Danielle McGriskin Fund.
The cream of fashion's crop will be on display on October 25 as two of Lisburn's top stores Vanilla Boutique and Style Gallery together with Moira's Enigma Boutique will present their autumn/winter collection showcase at the Fashion Rocks event.
The fashion show will be followed by top entertainment acts in the form of The Red Hot Roosters and Alicia Karr, the UK's official Pink tribute act. The event is being organised by Danielle McGriskin and her family. Since she was diagnosed with a brain tumour at the age of 14 last year, Danielle has made it her goal to raise funds for research and provide awareness of brain tumours.
Sarah Lindsell, CEO of The Brain Tumour Charity said: "We're really thrilled that the McGriskin family are hosting this exciting event to raise funds for research into brain tumours. Our supporter groups are inspiring because they have such personal reasons for wanting to raise funds. Research offers the only real hope of dramatic improvements in the diagnosis, treatment and management of brain tumours. Over £500 million is spent on cancer research in the UK every year, yet less than 2% is spent on brain tumours."
Danielle's mum, Amanda said: "We are very thankful for the fantastic support NICFC has provided to the whole family and in return we are delighted to be able to help the charity through this fundraising event. NICFC fundraiser, Briege Price said: "NI Cancer Fund for Children provides practical and emotional support to children, teenagers and young adults with cancer and their families. We are so grateful to the family for organising this event because NICFC would not be able to provide this essential support and vital services without funds."
The event kicks off with a drinks reception at 7pm. There will also be an auction and a raffle on the night with some impressive prizes up for grabs.
Tickets can be obtained from Lisburn or Hillsborough Tourist Information Centre, The Tannery, Vanilla Boutique, The Style Gallery, Enigma and the Cabbage Patch in Glenavy. Alternatively contact NICFC office on 90805599.
Ulster Star
28/09/2012