City centre shop owner fears for the future
by JULIE-ANN SPENCE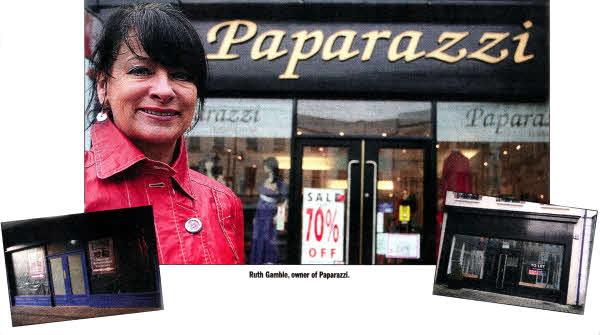 Ruth Gamble, owner of Paparazzi
THE recent economic downturn has been sharply felt by businesses in Lisburn, with numerous shops being forced to close their doors in recent months.
Many stores in the city centre, including Top Shop, Priceless, Jessops, The Body Shop and Captain Cooks, have shut up shop and other local businesses fear for their future as well.
Ruth Gamble, who owns Paparazzi in Lisburn Square, revealed that on top of her rent of £20,000 per year and service charge of £5,000, her rates bill is £17,000, making it difficult for her to continue trading.
Paparazzi has been part of Lisburn for 16 years now and at one time Ruth operated four shops in the city centre. However, following the introduction of on-street parking charges, Ruth said the drop in footfall forced to close her other branches and focus her attention on her shop in Lisburn Square.
"When the parking system changed, that is when the gradual decline began," she explained. "I moved it all into one shop and I was able to cover my overheads because the shop was full and people were coming to Lisburn. Now there has been a decline in footfall and a lot of the shops in Lisburn Square are closed. There is no vibe here at all now.
It's getting to the stage where it is embarrassing," she continued.
"Every customer who comes through the door comments on it."
As well as the drop in shoppers in the city centre, rates are proving to be a huge burden for local shop owners like Ruth. "The rates are just astronomical, she continued. "You can negotiate your rent but you can't negotiate your rates I don't know what the future will hold."
Ruth is appealing for local people to support shops in Lisburn and is urging Lisburn City Council and Finance Minister Sammy Wilson to do more to offer rates relief for local businesses.
"How can you put rates up in the height of a recession?" asked Ruth. "Our rates will be £800 a year more and we are already struggling."
Lisburn Councillor Ronnie Crawford has been campaigning for several years for more to be done to help small shops and businesses in the city centre and has pressed for rates relief for struggling shop owners.
"There are landlords offering their shops rent free in some areas but they still cannot obtain tenants because of the huge rates bills which are based on pie-in-the-sky rental value estimates," said Mr Crawford.
"Sammy Wilson now needs to introduce another scheme whereby businesses in certain designated areas pay rates based on turnover instead of out of date rental estimates. That would help to keep some businesses in operation and avoid the empty-shop blight facing Lisburn and Market Square," he added.
Mr Crawford was also critical of Lisburn City Council's latest rates increase of just under 4%. "The contention that the new rates increase of just under 4% is under the rate of inflation does not bear scrutiny," he continued. "To use the December rate of inflation for the financial year beginning April 2012 is a piece of creative accounting and I have challenged councillors to identify one credible economic source that supports an inflation figure of over 4% for 2012/13.
"PWC suggest that inflation in 2012 will be 2.5% falling to 2.1% in 2013 but the Council is in the happy position of having a freeze on Council salaries which make up around 45% of Council expenditure and nearly every year their is an underspend on their estimates.
"It is unfortunate that many of the disciplines which apply in the private sector do not pertain in the public services. Businesses which insist on above inflation price increases run the risk of losing customers to their competitors but ratepayers are a captive audience who compulsorily fund whatever expenditure the Council deems necessary. So this year ere is an increase of around £1.2 million in Council ending to be funded by ratepayers and business alike because the Council does not have to act competitively.
"Belfast City and Banbridge Council have been able to bring in rates increases of 2.9% despite facing the same problems as our own Council, which needs to show more understanding of the problems facing those who provide employment and substantial revenue to the Council coffers, he concluded.
julieann.spence@ulsterstar.co.uk
Ulster Star
02/03/2012