Eight's great, but we're hungry for more say world champions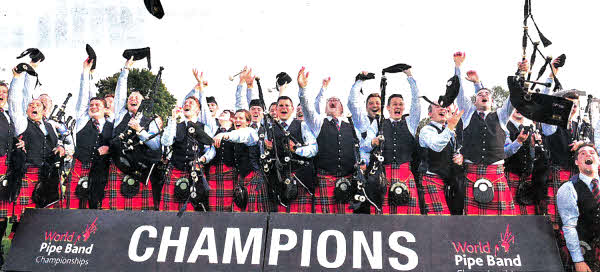 Field Marshal Montgomery Pipe Band celebrate their win in Glasgow
THE LISBURN pipe band sitting on top of the world is still hungry for more titles, according to its celebrated pipe major.
Richard Parkes of the Field Marshal Montgomery says Saturday's incredible eighth World Championship victory in Glasgow has "spurred them on to break records.
The locally-based band has an illustrious history to match its distinguished name with a total of 51 'major' titles.
Drum Major Parkes says they took time out to celebrate but said there is still work to be done before the season ends.
"There are other records out there that other bands have got that we aim to equal" he said. "The pipe major with the most world championships has won 12 and we've now got eight, so obviously it's an aim to see if we can get anywhere close to that. There is still one championship left this year and that is the Cowal Championship in two weeks' time.
"From that there is the Champion of Champions trophy, which is like a league system based on the five major championships during the year, and hopefully we can win that along with the Cowal," he said.
"Once that finishes that is the season over and we'll take a break in the winter, but we will still be looking for new material for next year."
The Field Marshal Montgomery was formed in 1945 by a group of farmers' sons with the blessing of the legendary Monty himself—who donated the sum of ten shillings when approached for permission to use his famous name.
Mr Parkes said the buzz of being crowned world champions never diminishes: "The Worlds is the one event in the year that you really want to win, and it's always a great thrill to win it."
Lisburn's Mayor, Alderman William Leathem, who is himself a member of a pipe band, extended his congratulations to the band.
Mr Leathem said: "This local band of which we are so proud has proven its world status yet again and I want to say well done to the Field Marshal Montgomery Pipe Band,"
"It is well known that I am a keen enthusiast of pipe bands and I have an insight into the amount of hard work and preparation that would have gone into this very important competition, notwithstanding the talent so clearly exhibited by the Field Marshal. There were over 8,000 pipers and drummers at the Glasgow competition and the competition would have been very stiff with 25 bands in their category. Well done to everyone it is a proud achievement," concluded the Mayor.
Ulster Star
17/08/2012