Community stunned by fire death
by MARY MAGEE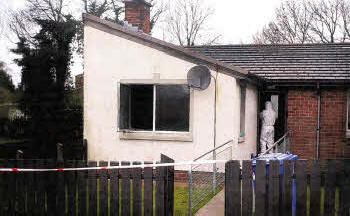 The scene of the fire in Maralin Avenue. US1412-111A0
THE DEATH of a 64-year-old woman in a fire at her Maralin Avenue home on Tuesday has stunned the Old Warren community
Neighbours said the woman had been living there for a year and had just arrived home at the weekend after a spell in hospital when the tragedy occurred.
Care workers who visit the woman daily raised the alarm and called the fire service around 9.43am on Tuesday morning at the end terrace bungalow.
Four appliances arrived and firefighters entered the property and discovered the body of the woman in the living room.
Assistant Chief Fire Officer Dale Ashford said it appeared an accidental fire had began in the living room and had burnt itself out. He confirmed that two working smoke alarms had fitted in the property.
Robert Craig, who lives in the same row said: "This is just terrible. If the smoke alarms were working you just wonder why no-one heard them? Something like that would really scare you."
He said that the tragedy highlighted the need for some sort of outside working smoke alarm system to alert neighbours so that something could have been done to save the woman.
Yvonne and Billy Law, who live a few doors down, also spoke of their shock at hearing the tragic news. They only became aware of what had happened when fire crews and the police arrived in the street.
They have only been residents there for two years and said that they had only spoken to the woman briefly.
Yvonne said she introduced herself to her one day when she helped her into her bungalow with her shopping and described her as a quiet and pleasant woman.
"It came as a real shock to all of us," said Yvonne. "I was so upset when I heard that she had died. How could no-one have heard the smoke alarm.
"It is so sad for her family to get such awful news like that."
Councillor Stephen Martin stated: "At this time, I want to express my sympathies to the family, friends and neighbours of the lady.
"This is a close knit community and such a turn of events has come as a shock to people in the area.
Thanks must also be expressed to the care workers who raised the alarm and to the Fire & Rescue Service for their quick attendance at the scene."
Assistant Chief Fire Officer Dale Ashford said this was the fifth incident in a month throughout Northern Ireland where older people have died in house fires and he described it as 'unprecedented'.
He said that he had been with the fire service for 25 years and has never seen so many deaths where pensioners have died in house fires in such a short time.
"I have looked at all the circumstances of the variety of fires and there is no trend," he said, "I have looked at the details and they are not all the same types of fires, smoking electrical etc."
He urged everyone to take advantage of the NIFRS free fire home safety advice where fire crews will visit your home and offer advice and, if needed, will fit free smoke alarms. They can avail of this service by ringing 02892-600477.
mary.magee@ulsterstar.co.uk
Ulster Star
06/04/2011