Week of celebrations marks 70th anniversary of First Lisburn GB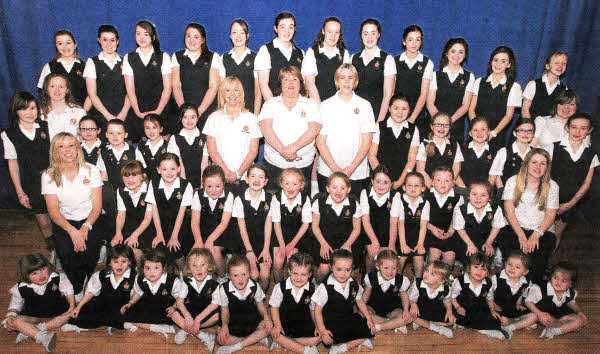 First Lisburn GB who are celebrating their 70th anniversary. US118001C
THE leaders of First Lisburn Girls' Brigade Company, one of the oldest in existence in Northern Ireland, are inviting past members and friends to join them for two events this weekend marking their 70th anniversary.
The week of celebratory events began on Thursday evening (March 22) with a Past Members' Dinner and will continue this weekend with their historic 70th Anniversary Display in the Island Hall, Lagan Valley Island on Saturday evening (March 24) at 7.30pm followed by a Special Anniversary Service in First Lisburn Presbyterian Church on Sunday morning (March 25) at 11.00am.
Everyone is invited to go along and support the leaders and girls in marking these important milestones in the history of the city centre Company.
In the early 1940s the late Lillian Tweed and her husband, a bank manager, joined First Lisburn Presbyterian Church. Having previously been Captain of 1st Company Rutland Square Girls' Brigade in Dublin, she energetically pursued the idea of forming a company.
The late Sarah Crothers, who lived beside her on the Dublin Road, helped her to recruit members by visiting all church families and calling at houses in the area inviting children to join this new venture. War was raging in Europe and as the military authorities had commandeered the former school building (now the Church Hall) for use as the Food Office for the Lisburn district, it was decided that the proposed new GB Company would meet in the Public Elementary School, now Central Primary.
After much hard work, keenly encouraged by the then minister, the Rev David Hay (1927- 1949), a Company was formed and sixty members were officially enrolled on Sunday November 8, 1942.
A major problem the leaders faced was getting material for uniforms due to wartime rationing and one of several uniform restrictions they had to opt for was the use of black plimsolls (gutties) instead of the pristine white ones used in later years.
The newly formed Company met each Saturday morning and activities included PE and dancing. As there was no swimming pool in Lisburn in those days, a highlight during summer months was the Friday evening outing to Friends' School where they went swimming.
Previously called 'First Lisburn Girls' Brigade, it was re-named '4th Northern Ireland Company' in 1964 when the Girls' Brigade, Girls' Guildry and Girls' Life Brigade merged to form the Girls' Brigade as we know it today.
Under the Captaincy of Suzanne Scott, the present Company, which is still known locally as First Lisburn Girls' Brigade, has 60 members.
First Lisbum GB who are celebrating their 70th anniversary. US118001C
Ulster Star
23/03/2012