Star and Bow Street Mall announce first
Food & Craft Market at the Mall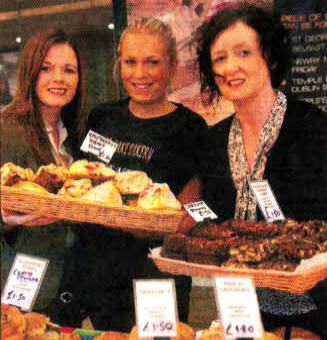 Karen Marshall Bow Street Mall Manager, Stall Holder Danica Marjanovic and Julie Bailey of Johnston Press pictured as the Ulster Star and Bow Street Mall launch the Food & Craft Market at the Mall. US3112.119A0
THE Ulster Star is pleased to announce their partnership with Bow Street Mall in an upcoming promotion - 'Food & Craft Market at the Mall'.
On Saturday 1 September from 9am — 5pm you can browse, shop and sample food and craft from the best of local Northern Ireland artisans.
"We're very pleased to be working with Bow Street Mall as the venue for our first food and craft market and look forward to a very fulfilling partnership," said Julie Bailie, Event Organiser, Ulster Star.
"With free entry for visitors and exhibition stands available from only £100+VAT, it provides something special for everyone, suiting all pockets and budgets."
With over 70 stores and 1000 parking spaces, Bow Street Mall really is a great place to be, offering the discerning shopper all you could ask for under one roof with a food court too.
Stores include Marks & Spencer Food, HMV Menarys, New Look, Peter Mark, Primark, Poundland, Semi Chem, Sweetie Miller, BHS, Burger King, Costa Coffee, Dorothy Perkins, Dunnes Stores, Evans, Exhibit, DVS, Hanna & Browne, and Sony Galleria so the Bow Street Mall presents the perfect backdrop to food and craft businesses wishing to take part in this promotion.
Exhibitor space is from only £100+VAT but availability is limited so make sure you don't miss out on this great opportunity, and contact Julie Bailie on 028 3839 5504 or email julie.bailie@jpress.co.uk for the best choice of location on the day.
Ulster Star
03/08/2012