Fort Warders get new uniforms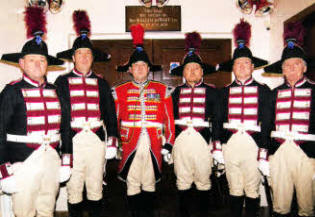 Howard Walker, Alan Finn, Andrew Carlisle (Lord Downshire's Bugler), Robert Finn, Simon Walker and Jackie McQuillan.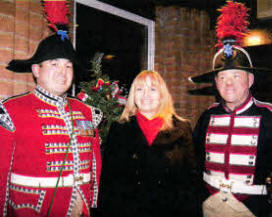 Hillsborough Bugler Andrew Carlisle, Brenda Hale MLA and Howard Walker.
HILLSBOROUGH: The Old Guard launched the new Hillsborough Fort Warders uniforms recently along with a booklet titled 'Hillsborough Fort and its Warders'.
On this historic occasion the call from Lord Downshire's Bugler, Andrew Carlisle, was met with the falling-in of the Guard for the first time in over sixty years and the recently formed Guard were led by the bugler to the spontaneous applause of those assembled.

Enjoying the light supper at the launch of the new Fort Warder uniform. Photos by Mark McCullough and Jonathan French.
Mr Harry Shortt. Chairman of Hillsborough Old Guard (Hillsborough's local history, culture and arts society) expressed his gratitude to those present and said that it was with their continued support that this had come to a reality and hoped that everyone would take pride in what they have helped to achieve and thanked Ross and Elizabeth Morrow, Downshire Primary School Choir, Garvey Silver Band, and 'Housty' for providing the program of entertainment on the night. A light supper was enjoyed by all.
Mr Shortt said that after the success of the Royal Wedding Street Party last year a similar event was in the planning for the forthcoming Diamond Jubilee of Her Majesty the Queen.
To help mark this occasion Creative Media Students From SERC Lisburn will be taking photographs of Hillsborough's businesses, organisations and families to compile a historic pictorial record of this special year. If you wish to register an interest for inclusion in this project please contact melanie@hillsborougholdguard.co.uk.
Copies of the new booklet are available from the tourist information centres in Hillsborough and Lisburn
Ulster Star
02/03/2012