New book gets to Hart of the matter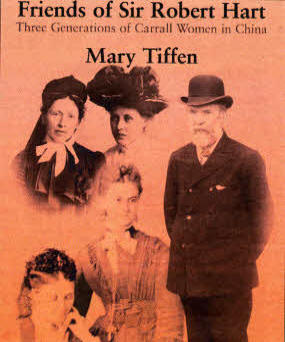 A new book about former Lisburn man Sir Robert Hart has been Iaunched. The book 'Friends of Sir Robert Hart: Three Generations of Carrall Women in China' written by Dr. Mary Tiffen.
A NEW book about Lisburn man Sir Robert Hart whose career and life have been likened to Cecil Rhodes or General Gordon, has been launched.
Friends of Sir Robert Hart: Three Generations of Carrall Women in China' by Dr. Mary Tiffen, has been published in association with Queen's University and was presented to Mme. Liu Yandong, the most senior woman in the Chinese government, on a recent visit.
Sir Robert was one of the most remarkable men to emerge from Ulster, becoming Inspector General (head) of the Chinese Imperial Maritime Customs, from 18631908.
When he died in 1911, the romance of his career was compared by The Times to Rhodes and Gordon. Yet unlike them he has been largely forgotten, even in Northern Ireland.
Hart was born the son of a grocer in Portadown in 1835. His father later managed a distillery in Ravernet, and Lisburn was their local town.
Hart had his first schooling in Hillsborough and after graduating at Queen's in 1852, the College nominated him for a post in the British consular service in China. In 1859 he transferred to the Chinese Imperial Maritime Customs and rose to become its head in 1863 and the trusted adviser of the Chinese Government, mediating in the many conflicts it had with aggressive foreign powers.
On his return in 1908 he was made a freeman of the city of Belfast and first Pro Chancellor of the new Queen's University, chairing its first Senate.
His Irish wife, Hester Bredon, had found life in Peking hard to bear, and returned permanently to Britain in 1882 with their children. His loneliness was partly assuaged by deep friendships with women and girls, including the authors' female forbears, the Carrells. The new book is based on his and their diaries, letters and photographs.
The author is the nice of Harts' Carrell friends, Kathleen, who was born in Hart's house in Peking in 1883, and became his god-daughter. Their diaries and the letters they exchanged are an important part of the book.
Dr. Tiffen explains: "She never forgot her wonderful visit to him in 1900, just before the Boxer rebellion led to the siege of foreigners, including Hart, in the British legation for eight ghastly weeks.
"Kathleen later married John Newton of Dungannon (whom she met in Canada). The marriage was unsuccessful, but it produced a daughter, Keeve, who met and married David Acheson of Castle Caulfield, near Dungannon, while visiting her father's relatives. Their son, Peter Acheson, now Vice Lord Lieutenant of Tyrone, still lives there."
Ulster Star
27/04/2012