Plaudits fly for Fusion Theatre premiere of Lloyd Webber musical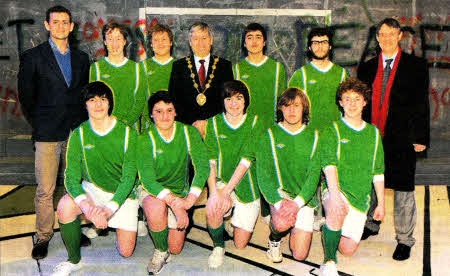 Some of the cast and crew of Boys in the Photograph with Lisburn Mayor Councillor Brian Heading. Photo by Simon Graham / Harrison Photography
PRAISE has been heaped on local youth group Fusion Theatre following their latest successful production - The Boys in the Photograph.
The talented young people took to the stage of the Island Hall last week for the all-island premiere of the hard-hitting Andrew Lloyd Webber/Ben Elton musical.
Set in Belfast at the height of The Troubles the show did not shy away from dealing with the harsh realities of life in 1970s Belfast. However, the brutality was also mixed with a liberal dose of traditional Northern Irish humour, as well as moments of tender romance.
Sheelagh Hobart, National Operatic and Dramatic Association Representative for Ireland, was full of praise for the local production congratulating not only the cast, but also the director Ian Milford, Choreographer Rebecca Leonard and the entire crew for the staging of the show.
"The 'lads' who made up the football team were all totally typical and exuded energy in play/ dance and in dialogue," she said. "Brian Trainor was the only adult in the cast and as 'Father Brian' added gravitas as well as a lovely sprinkling of humour. Although the show contains much thought provoking and emotional material, much of the dialogue and song are hilarious."
Sheelagh singled out many of the cast for their performances, including Vitoria Sanders, Bronagh Walsh, Eoin McAndrew, Dave Crossan, Conal Con, Connor Carson and Hannah Conlon.
Ian and Rebecca directed and choreographed a tight gritty show, which brought all ages into crowd scenes to great effect, and allowed principals to display acting skills beyond their years, she concluded. "It was an emotional evening as well as an entertaining one."
The Mayor of Lisburn, Councillor Brian Heading, congratulated the cast and crew following the success of the show. "This play is very thought-provoking," said Mr, Heading. "I would like to congratulate Fusion Theatre and pass on my thanks to the cast and production team, and to everyone else who made the play so successful. "I thoroughly enjoyed the play and know it was extremely popular and I hope the production goes from strength to strength."
Following their success in the Island Hall, the cast and crew were thrilled to be accepted to perform the show at the Festival of Light Opera in Waterford later this year.
Fusion Theatre's next production at the Island Hall in Lisburn will be in September when they will stage Evita.
julieann.spence@uIsterstar.co.uk
Ulster Star
17/02/2012