Game set to return to Bow Street shop
by MARY MAGEE

The Game store at Bow Street.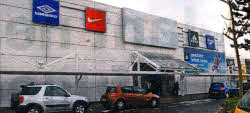 The former JJB store at Sprucefield.
AS a jobs threat was lifted on a sports store in Sprucefield there was yet more good news this week as it looks like a computer games retailer is returning to Bow Street.
The former JJB Sports store that was threatened with closure is one of three stores that will remain open, having been taken over by new owners Sports Direct - saving a number of jobs.
Meanwhile, it looks like Game, is returning to Bow Street six months after it closed its doors. It was one of two Lisburn branches that closed when Game, that had suffered from poor trading when it was hit by competition from online-only retailers, went into administration.
At that time the company, which employed 160 people in its 20 branches across Northern Ireland said that only five branches would remain open - Newtownabbey (Abbey Centre), Belfast (Donegall Arcade), Craigavon (Rushmere Centre), Londonderry (Richmond Centre) and Newtownards.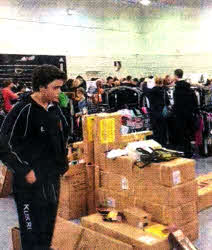 It was announced earlier this week that the former JJB Sports store in Sprucefield will be one of three stores that has been kept open in Northern Ireland by new owners Sports Direct. Overall 133 JJB stores across the United Kingdom were not included in the sale, forcing many to close with the loss of about 2,200 jobs.
The only other former JJB stores to remain open in Northern Ireland will include Antrim and Londonderry saving 65 jobs.
Lagan Valley MP Jeffrey Donaldson has welcomed the decision to keep the former JJB Sports store at Sprucefield.
Mr Donaldson said he welcomed such a positive outcome at a time when there is a lot of negativity hi terms of retail structuring.
He hoped that there would remain a proper balance between a good regional shopping centre and a vibrant shopping city centre.
"If we get that balance right then Lisburn will have a brighter future," he said.
"This news is certainly welcome but it is only part of the success that we need to continue to achieve for Lisburn."
Councillor Allan Ewart, Chairman Lisburn City Centre Management described Game returning to Bow Street as 'great news' for Lisburn. "Anyone who has walked past the vacant Game store in Bow Street recently will have noticed the ongoing building works," he said.
"I have recently heard that these refurbishment works are in preparation for the return of Game which is due to reopen its Bow Street store later this month. This is great news for Lisburn and in particular gainers, who were extremely disappointed when the company was forced to close its stores earlier in the year.
The news comes at a good time and will further widen the choice of goods and services on offer in Lisburn City Centre. Game is one of the stores that is high on shoppers list in the run up to Christmas and I'd like to welcome them back to Lisburn.'
Ulster Star
05/10/2012