Jonny ready to complete brother's heroic challenge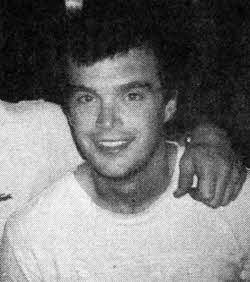 Gareth Crockett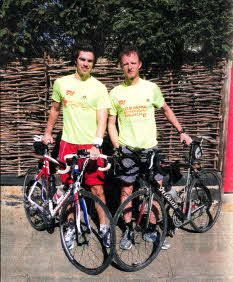 Jes Davison and Jonny Crockett
A DENTIST from Moira will this weekend complete a challenge to raise money for charity that his brother was tragically unable to complete.
Jonny Crockett (25), who now lives in Yorkshire, is set to complete the Beldon challenge - a year after his brother Gareth was killed taking part in the same challenge.
Jonny, accompanied by Gareth's friend Jez Davison, started close to where Gareth was killed after being knocked off his bike in Anglesey, on Thursday (yesterday) to cycle 250 miles and run two marathons in four days, finishing with the London marathon this Sunday.
Last year Gareth, along with Jez and Neil Drew, were attempting to cycle 500 miles and run four marathons in eight days in aid of Leukaemia and Lymphoma Research in memory of their friend John Erwin who passed away 11 months previously. They called their challenge the Beldon - first the Belfast Marathon and then the London.
However tragedy struck when on day four, whilst cycling along the A55 dual carriageway in Anglesey, North Wales Gareth was hit from behind and killed instantly. Neil was injured.
Now Jez and Jonny aim to complete the challenge. On Thursday they hope to complete a 125 miles cycle from Welshpool to Bristol. On Friday they will do a 26.2 mile run in Bristol and on Saturday will be joined by Neil Drew to take part in a 125 mile cycle from Bristol to London before finishing the remarkable challenge on Sunday with the London Marathon where they will be joined by William Crockett, Gareth and Jonny's dad.
Jonny said all the funds will be used to raise money for Leukaemia and Lymphoma Research.
Jonny said that completing the challenge on Sunday with his dad will be emotional but they want to make Gareth proud.
"If we both cross the line together that will be a really amazing, proud and emotional moment," he said.
"What I'm focusing on during my training is that moment on the finish line and how much it will make all the hard work worthwhile."
Jonny explained why he wanted to take on the challenge.
"I felt I owed it to Gareth to finish the challenge for him and finish off the great work he started," said Jonny.
"The whole challenge meant so much to him, and really to be able to try and finish it off would mean so much.
"Gareth was trying to raise a lot of money by doing something heroic, by taking on such a massive challenge, and for me to try and finish that would just be incredible."
You can follow Jez@jez_davison and Jonny@Crockers18 on twitter for updates on their training and during the challenge.
Anyone wanting to sponsor Jonny can do so by logging into his site www.justgiving.com/2012Beldon
Ulster Star
20/04/2012