Gareth's life changing' life at Kenyan hospital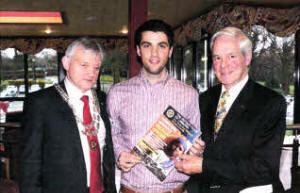 Gareth Patterson, centre, who returned to the Rotary Club of Lisburn to help them launch the 2012 bursary with president Dale Orr, left, and bursary organiser Stephen Gilbert.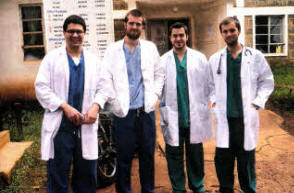 Gareth (right) with fellow medical students, from left to right: Paul Karayiannis, Matthew Arneill and Ian Dunwoody.
AN Annahilt medical student has spoken of his 'life changing' experience in Kenya last summer, working at a hospital in the country after receiving a bursary from the Rotary Club of Lisburn towards his trip.
Gareth Patterson, 22, who is in his final year at Queen's, received the Trevor Guy Memorial Bursary worth £500, which is awarded each year to those either taking a gap year or those wishing to help a disadvantaged community at home or abroad.
Gareth, a former Wallace pupil, along with three fellow medical students including Matthew Ameill, also a former Wallace student and from Annahilt, spent their six week elective as part of their medical training at the Kapsowar Mission Hospital, which is run by an American surgeon Dr Bill Rhodes and his wife Laura.
The hospital was set up by the African Inland Mission (AIM) in 1936, and is a 150 bed hospital situated in the North Rift Valley province in NW Kenya and serves the Maraquet tribe.
Gareth said his visit to Kenya was an 'eye-opening' experience, which gave him the opportunity to work in surgery, maternity and paediatrics.
"It gave us the opportunity to do Gareth we wouldn't do here and practice our medicine. Despite the limitations, the hospital still offers a great service of care." he said "My time at the hospital was a life changing experience.
it allowed me to get involved in delivering healthcare in a setting very different to home.
"Resources were limited and this often meant having to make very difficult decisions when it came to the care of patients."
"We saw a lot of suffering - poverty, malnutrition and social problems. That was the hardest part. Not always being able to provide the appropriate care to patients because o a lack of resources was also hard to accept. "The first day we arrived at the hospital my friend Ian and I were placed on the maternity ward and handed over a pair of prematurely born twins to care for.
"They were both in distress and not doing well. If this was back home in Northern Ireland they would be put on a ventilator and likely pull through.
"At Kapsowar there were no ventilators. Ian and I took it in turns to manually ventilate the babies throughout the morning and afternoon, hoping they would stabilise. Unfortunately they didn't pull through.
"On another occasion I got a rap on my window at around 2am. It was Dr Jones, the obstetrician who lived next to us. A lady was bleeding badly in maternity as she had a low lying placenta.
"She was in desperate need of blood but the lab at the hospital had run out.
I had to make my way in the dark of night guided by my head torch to the hospital ward.
"There I was greeted by the lab technician brandishing a large bore needle and blood bag. Thankfully the patient pulled through - it took me a couple of days to recover, however.
"One thing we noticed was the joy of the Kenyan people and the faith they have in God, despite their hardships.
"This was a real challenge to us as we reflected on the things at home which we prioritised or thought of as important. "Working in a missionary hospital allowed us to not only care for the patients' physical needs but also their spiritual needs too. We were able to pray and talk openly and honestly with patients about our own faith and what they believed, answering any questions they had.
This was a privilege and something which is quite difficult for medical staff to do at home. Coming home I think we were challenged to remember that the care of the patient is more than drugs and diagnoses. It is about approaching a person and trying to meet all their needs, not just physical."
Gareth said the help he received from the bursary award from the Rotary Club was a "huge benefit".
He said: "Working abroad is very expensive with flights, visas and vaccinations, so it was really helpful.
I would encourage anyone who is considering working abroad this summer or taking a gap year to go for it.
"Having the opportunity to help others, sometimes when they are at their most vulnerable, or making even a small difference somewhere in the world is a privilege and you will learn a lot from the experience.
"Rotary is a fantastic organisation which promotes acts of goodwill and service around the world.
"The Trevor Guy Memorial bursary will help you to make that difference wherever you go."
Taking time to thank those who helped with the trip, Gareth said: "I'd like to thank Stephen Gilbert from Lisburn Rotary Club, who organises the Bursary award, and the Rotarians of Lisburn for their support.
"I would also like to thank AIM and Bill and Laura Rhodes at Kapsowar Mission Hospital."
* Applications for the Trevor Guy Memorial Bursary 2012, named in honour of the man who came up with the idea, are now open. The main award is worth £500 and a further £400 will be available to offer as discretionary awards between two runners up who put forward interesting and worthwhile projects. The application process involves completing a form giving details of your proposed project and expenditure so it will be useful to prepare a budget showing how costs will be funded. You can download an application form and a copy of rules and regulations from www.lisburnrotary.co.uk and click on the tab marked Trust Fund.
Completed forms should be forwarded to the Honorary www.lisburnrotary.co.uk of Lisburn, 3 Sandyhill Park, Drumbeg, Belfast BT17 9LS.Applications will close on April 13 2012 and no application received after that date will be considered. The winners Application Bursary awards will be announced before May 31 2012.
stacey.heaney@ulsterstar.co.uk
Ulster Star
23/03/2012