Gay couple forced to leave home after attacks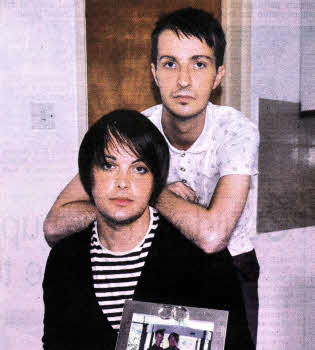 Dean and Curtis McFaII at temporary accommodation after being forced from their home US3112.410PM Pic by Paul Murphy
by MARY MAGEE
A SAME-sex couple say they have been left heartbroken at being forced from their Rathvarna Avenue home after a brick was thrown through their kitchen window in the early hours of July 25.
For newlyweds, 24-year-old Dean and 20-year-old Curtis McFall who married in May, it was the final straw after a string of verbal taunts and attacks to their property. The couple have decided that enough is enough and have left their home, too afraid to return to the home they share.
It is particularly heart-breaking for Dean who first moved into the bungalow along with his 82-yearold wheelchair bound grandmother, Hilda McFall. Both Hilda and Dean had previously lived in a flat in Knockmore but because of Hilda's frailty they moved into the bungalow in the summer of 2008 where both shared many happy memories before she passed away months later in November 2008.
Dean and Curtis have now moved into emergency accommodation for their own safety
Dean said that what started off as childish pranks like being woken in the the middle of the night soon escalated into verbal abuse, attacks to their friend's car and bricks thrown into their garden.
On their wedding day when they brought guests back to their home, they were called 'freaks.' In other instances when friends have called they have had their cars scraped, their tyres let down and wipers snapped.
"That house has so many lovely memories especially as it was the last place my granny lived," said Dean. "I loved my house and we spent money doing it up.
"I don't know why we are being abused like this. When I was out and returned home I always made sure I had my keys ready so I could just get into the house quickly in case something was thrown at me. This is 2012 for goodness sake. I would never judge anyone differently because of their race of religion or their sexual orientation."
Dean said that in one instance as they soaked in their jacuzzi in the back garden someone hurled bricks at them.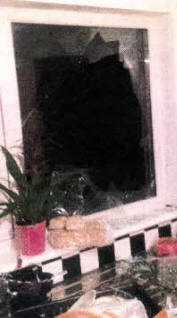 A broken window at their home
One time I went to the shop and when I said 'hi' this person started shouting at me saying that it would be a nice day when he goes to my funeral and he hoped I would die. It is just not right to be treated in this way."
But the last straw came last week as they. both slept and were rudely awakened by a brick being thrown at their kitchen window
"I heard the dogs barking then a large smash," said Dean. When he went to investigate he found
the window had been broken.
He rang the police and both were too scared to go back to sleep and waited until 9am that morning before they went to the Housing Executive to be re-housed.
"The Housing Executive could not have been nicer" he said.
He said even then the attacks had not stopped. He said that what he can only describe as vile' comments were put on Facebook after they left.
"I would love to go back to my house but I cannot" he said. "What else might happen? We have spent a lot of money making our home beautiful and now we have to leave.
"We just want to live in peace and be surrounded by people who just accept us for what we are."
Ulster Star
03/08/2012