Gemma's marathon effort on behalf of her grandfather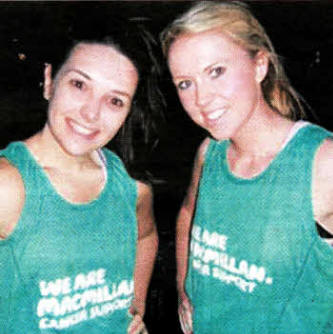 Gemma Ritchie and Catherine McPhillips
AS 24-year-old Hillsborough woman is preparing for a huge running challenge that she hopes will help raise up to £6,000 for a charity close to her heart.
Gemma Ritchie, originally from the Carnreagh Road, has been training since November for the Virgin London Marathon which will be held in April 22, to support Macmillan Cancer Care.
Her grandfather, well-known and popular Hillsborough man Eddie Sinnerton, was diagnosed with stomach cancer in August and after hearing of his illness decided she wanted to do something to help raise money for a cancer charity.
The former Ireland and Ulster badminton player and a member of Lisburn Racquets club said that her grandfather's illness came as a great shock to the whole family.
"It has been hard for' the entire family, especially my grandmother" she said. "A month after he was diagnosed I decided I would like to do something that might make a difference and help a cancer charity." Gemma, who did a sports science and physiology degree at University of Leeds and now works as a insurance broker, said she has had a lot of support from her family.
"My grandfather thought it was brilliant that I am doing it on behalf of him," she said. "I chose Macmillan because it helps support families and I know just how much the whole family have been affected by his illness."
And even though Gemma is used to sport, the training has been pretty challenging.
It has been hard, especially when you go out in the dark and cold - but then you have great motivation to do it."
Gemma will join one of her best friends from University, Catherine McPhillips who is from Shropshire, England.
They began their training in November and are confident they will acquit themselves honourably.
They have to raise a minimum-of £4,000 each for the charity but are hoping it could be as much as £6,000.
They are holding a quiz night and auction on Friday, March 16 at the Hilden Brewery. Tickets are £15 per person.
The event will be hosted by Cool FM Breakfast show presenters Pete Snodden and Nigel Ringland with appearances from some of the Ulster Rugby Players. Cool FM DJs Gareth Stewart and Steven Turnbull will be doing sets.
Anyone interested in helping can log onto her website address which is https://www.justgiving.com/Catherine-Gemma and donate through this.
You can also follow her on twitter@Gemma_Ritchie
Ulster Star
03/02/2012