Shed pounds for charity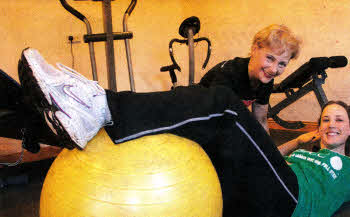 Irene McCaffrey puts the NSPCC's Clare Galbraith through her paces
NSPCC Northern Ireland is set to benefit in a big way as bootcampers from Lisburn and Lurgan compete to fitten up while slimming down.
Join the 2fi day `Get Lean Challenge' and make room in your clothes for a bit of Christmas indulgence, while supporting NSPCC services in Northern Ireland.
Starting on Monday, November 5, and running until December 1, the challenge will see bootcamp enthusiasts from Lisburn and Lurgan stretch their fitness to its limits in pursuit of a terrific prize, and even better outcomes for vulnerable local children. Irene McCaffrey from Impact Fitness Bootcamp, said that supporting the local children's charity was an "easy choice."
She explained: "When I suggested this event to my classes, they decided that they'd really like the money we raise to go towards NSPCC.
There's nothing like a bit of healthy competition to get people motivated, and the addition of such a good cause can only help to push people even harder towards their personal goals.
"While losing • a few pounds might be the ideal for many who come along, we recognise that fitness is just as important. For that reason, we'll be incorporating a challenging fitness element to the final day of the competition, so that those who can't quite shift the inches don't feel despondent."
Giving some insight into what participation will mean for those considering taking up this challenge, Irene continued: "There are many benefits to getting involved. As well as doing something fabulous from NSPCC, you're going to get into great shape and maybe even drop a dress size just in time for Christmas.
"The 26 day 'Get Lean Challenge' will consist of 12 intense workouts using the HITT training method, clean eating following the Paleo principles, and personal accountability with me, a personal trainer - all guaranteed to get you into the best shape yet.
"All participants will be weighed, measured and a before and after picture taken. Fitness goals will be set and achieved every week. "This is a fantastic opportunity for anyone who is 100% serious about finally getting the fitness results that have always eluded them. This programme will strip pounds of unwanted body fat, and make you much stronger fitter and healthier.
Last year's results were phenomenal; people not only lost pounds and inches but they performed better in their workouts because of increased stamina and strength."
NSPCC community fundraising manager Clare Galbraith said there were "so many reasons" to take up the challenge. "Thanks so much to Irene for organising this event," she said. "Not only will the group dynamic and competitive element help to keep people motivated through the winter, but there are great prizes at the end. "Irene is promising £600 worth of training, coaching and nutritional advice plus a free pampering day at the local spa, all in time for Christmas."
The closing date for entry to this programme is Wednesday October 31. The registration fee is £97 for the month, with half of this fee going directly to NSPCC. To sign up go to www.impactfitnesscamp.co.uk, email info@irenemccaffrey.co.uk or telephone 028 9261 1053.
Ulster Star
19/10/2012