Community unites to condemn attack on hall
by MARY MAGEE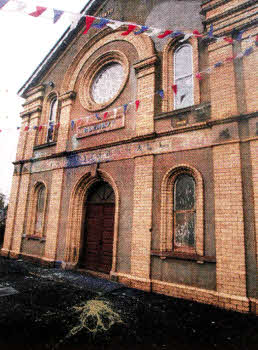 Gleam Protestant Hall in Main Street. US2912.180A0
A NUMBER of paint bombs have been thrown at the Protestant Hall in Glenavy's Main Street.
Police say the attack happened sometime between Monday night and the early hours of Tuesday morning and part of the budding and the front tarmac were covered in paint.
Spokesman for the Glenavy District of the Orange Order, James Tinsley, described it as an attack on the Orange heritage.
He said: "It is downright despicable that Glenavy Orange Hall should be targeted in this way. The perpetrators have nothing to offer this society and must not be allowed to succeed in their attempt to diminish our cultural and Orange heritage."
Mr Tinsley also expressed anger that the incident had come so soon after the successful Twelfth demonstration last week.
After coming to agreements in Crumlin for the 12th parade last week to enable it to pass so peacefully, I am very disappointed for this to have happened," he said.
"I believe individuals are angry that a confrontation did not take place and this is their way of venting their anger. I feel sorry for the local Orangemen in Glenavy who have worked so hard to improve their hall over the last number of years and this is the second time in three months the hall has been attacked.
"Community Relations in Glenavy have vastly improved over the last few years and I know the good people of Glenavy will disassociate themselves from the thugs who carried out this attack. I appeal for anyone with information to pass it on to the PSNI who have ensured me they will carry out a full investigation. "
SDLP councillor Pat Catney described the attack as 'despicable'. .
"This is a community hall," he said. ''Everything had gone so well at the 12th in Crumlin and now look at this. Someone knows something and they need to go to the police. If they don't want to, call me and I will notify the police.
I am dismayed that someone would stoop so low and come in the dead of night and carry this out.
This is not just an attack on the Protestant community, this is an attack on the whole community."
Sinn Féin MIA for South Antrim Mitchel McLaughlin described the attack on the hall as wrong.
"Whoever is responsible are no different to those who carry out attacks on GAA halls, churches and other cultural and community facilities and they need to stop these actions immediately," he said.
Former Lisburn Mayor Cecil Calvert said: "It was done soley to raise tensions in the village. These people, whoever they are, need to be caught and need to pay for the damage that they have caused.
If my child was out throwing paint bombs at a building I would expect him to pay for the damage. Someone's son or daughter was responsible for this. Their parents need to come forward and speak to the police. By not doing so they are as guilty as the person who threw the paint bomb.
Lisburn Mayor William Leathem condemned the attack. He said that it was deplorable that people would attack such a focal point in Glenavy.
This is the last thing that the Orange Institution or the Glenavy community needs or wants, " he said. "They want peace. People from right across the communty have all come out in support of the Orange Institution and condemned such an attack. I hope this damage will not have a lasting impact within the community"
It is the second such attack to the hall which was erected in 1870 on the site of a former hall
Ulster Star
20/07/2012