Lambeg siblings help raise money for injured friend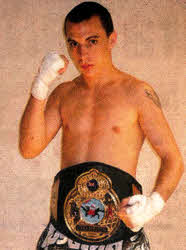 Daniel Ketley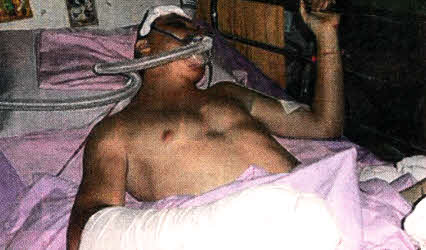 Daniel Ketley In hospital
A BROTHER and sister from Lambeg who own a UK based Medical Tourism Company in Thailand have stepped in to help raise money for an Australian friend after he suffered an horrific attack.
Owners of Lotus Medical International, Grainne and Cathal Farrell, are running a fundraising campaign to provide essential medical treatment for Daniel Ketley (21) a top Muay Thai champion fighter.
Daniel was found with serious injuries in Pheket and while police said he had been hurt in a motorcycle accident, his family believe he was the victim of an attack because he was a tourist. He was discovered at a filling station with a fractured skull, hemorrhaging and compression on the brain, a shattered eye socket, a broken jaw and four lost teeth, on June 8.
Cathal and Grainne, who are both in their 30's, are originally from the Derriaghy Road. Four years ago, Grainne launched Lotus Medical International and has been living in Thailand since. Her younger brother, Cathal, followed her there two years later to help expand the rapidly growing medical tourism company.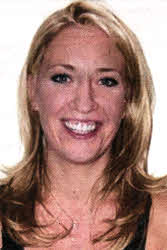 Grainne Farrell
Cathal Farrell
Grainne and Cathal have also been training in Muay Thai Boxing whilst living in Thailand - it was one of the reasons Grainne originally set the company up there. She has been competing for many years in Thailand and the UK and this was how the pair met Daniel.
Anything Daniel has ever focused his attention on he has done to perfection," said Cathal. "I met him though training for Muay Thai Boxing and he was one of the best foreign fighters here on the island of Phuket. I was devastated when I saw the condition he was left in and knew that Grainne and I had to help."
Daniel is recovering at his family's home but has to get regular treatment in Bangkok Hospital. His insurance has reached its limit but because of the extent of his injuries he will need to see a number of different specialists over many months.
Hospital costs alone are already estimated to be over £50,000 and this does not include the additional long term rehabilitation work Daniel will need.
Many Muay Thai camps in Thailand and internationally have already donated money and have put up donation boxes.
"Our mission is to make excellent healthcare available and affordable to everyone, so it has always been our goal to help people who cannot pay for healthcare, gain access to it," said Grainne.
Cathal continued: "Both Grainne and I have always believed in helping those less well off. Our company allows us access to some of the top medical specialists in the world so we are able to provide expert medical care and advice. We have run a number of charity events to help pay for surgeries and medical support for those who cannot afford treatment themselves."
Daniel moved to Phuket three years ago with his family to train as a fighter. On June 8 he left a friend's house on his motorbike in the early hours of the morning and stopped at a manual petrol pump in the in the Soi Sai Yuan area.
Three days later he woke up in hospital with no memory of what happened.
He spent five hours in surgery undergoing facial reconstruction. "I know I can't have crashed," said Daniel. "I know the roads very well, and the damage to my body - if I had crashed I would have put my hands down for sure but they aren't grazed."
His family say that when he arrived at the hospital his clothes were not dirty, ripped or damaged in anyway. The motorbike was taken to a local police station and had virtually no damage.
The Daniel Ketley fundraising Facebook page can be found by searching on Facebook under "Daniel Ketley Fund" and donations can be made via PayPal by following the link from the Facebook page.
Lotus Medical International can be found at https://lotusmedicalinternational.com full fundraising and Daniel's progress details can be found at https://www.facebook.com/DanielKetleyFund
Ulster Star
/2012