90 years of Ulster Grand Prix are celebrated in city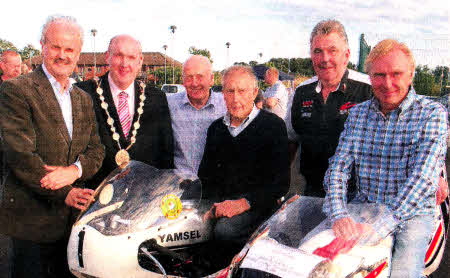 Cllr Thomas Beckett, Chairman of the Leisure Services Committee; the Mayor, Alderman William Leathem; Adrian Craig, an Irish Championship Winner in 1976 and 1977; local legend Ray McCullough, ; Robert Graham, Chairman of the Dundrod and District Motorcycle Club and Brian Reid, former road racer.
LISBURN took a trip down memory lane on Monday evening to celebrate the 90th Anniversary of the first Ulster Grand Prix in 1922.
The special event was held in conjunction with the McKinstry Skip Hire Ulster Grand Prix Bike Week, in the grounds of Lagan Valley LeisurePlex.
Visitors were able to see a static exhibition of several road racing motorcycles which won at the Dundrod circuit and meet some of road racing legends.
Members of The 30 Motorcycle Club of Ulster and The Vintage Club of Northern Ireland assembled at the LeisurePlex and completed a tour of the Dundrod circuit on their classic or vintage motorcycles after which their bikes went on display.
Participating in the event was David Crawford on a 1928 Moto Guzzi 500cc Sport which he has restored.
Among the winning motorcycles on display was a 350cc Yamaha, owned by Brian Reid, one of the famous Dromara Destroyers and ridden by him to victory in 1985 on the circuit and which also won the World Championship Formula 2 in 1985 and 1986. Another Dromara Destroyer, local legend Ray McCullough, brought one of his winning bikes as well as the 250cc Yamsel which he rode to victory at the Ulster Grand Prix in 1971; this bike is owned by Eddie Mateer and was the last bike to win an international championship road race at Dundrod in 1971.
Eddie also had on display the 1991 Honda RS 125cc, ridden by Robert Dunlop that year which also had successes at the North West and Isle of Man TT. Also on display was the 1989 250cc Honda Gemini bike ridden by Joey Dunlop that year with success at many of the main races and is now owned by Mr Cleaver Brown.
During the evening there was plenty to keep the whole family entertained with a series of performances by 'Trail Star' featuring motorcycles and stunt bicycles.
---
Dundrod races to be shown on TV
FOR those who can't make it along to Dundrod this weekend, BBC Sport NI will be at the Grand Prix to bring bike fans coverage across TV and radio.
BBC One NI will be broadcasting two one-hour highlights programmes on Monday, August 13 and Tuesday, August 14. Presented by Stephen Watson, the programmes will include all the action from around the circuit including stunning on-board footage and the helicopter camera.
BBC Radio Ulster will have all the action live throughout the day of the races on Saturday Sportsound on BBC Radio Ulster MW will have live coverage from the circuit from 10.30am until 1.10pm, when coverage becomes available on Radio Ulster FM until 6.00pm. Michael McNamee presents the day's action from the seven mile circuit, plus build up on the grid and plenty of post-race reaction with Larry Carter, Adrian Coates and Richard Petrie.
Shane Glynn, Editor, BBC Sport NI, said: "We're looking forward to bringing bike fans extensive
coverage of one of local sport's top events and to continue our successful relationship with Greenlight TV.
I'm very much looking forward to seeing helicopter camera coverage of the Dundrod circuit, as well as the on board and kerb cams that have become the signature shots of our bikes coverage."
Ulster Star
10/08/2012