Grandparents of the Year have double celebration
by MARY MAGEE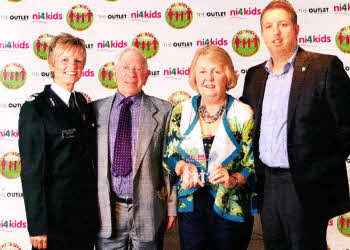 Noreen and Joe Fegan along with DCC Judith Gillespie and Kevin Scruby from award sponsors Rias.
IT was a double celebration for a Dunmurry family when they attended the Ni4Kids Family Awards.
Not only were Dunmurry grandparents Joe and Noreen Fegan from Upper Green named Grandparents of the Year - but their grandson won four airline tickets in a ballot that same night at the Andrews Gallery at the Titanic Quarter.
Joe (81) and his wife Noreen (73) were stunned by their success.
We do not feel that we need a trophy for what we do," said Joe. "We love our family and would do anything for them: It is lovely to get an award but don't feel we need it.
"I read profiles of the others and remember saying to my wife that we will never win as they deserve it more than us."
Noreen and Joe were nominated by their daughter Shauna after they helped look after her two sons since 2007. Shauna had lived in Manchester moved back to Dunmurry after her husband died of cancer leaving her to raise their two sons, then aged four and nine.
The family moved in with Noreen and Joe for a year and they even gave up their own bedroom to accommodate the three of them.
"Under their love and support, we started to recover in those early days," said Shauna. "As Grandparents they are just wonderful and we are now building a new life (and home) where they continue to be a huge part of us coping."
Shauna said Joe takes the boys to and from school while she works 12 hour shifts as a nurse.
He is a role model to my boys, teaching them about life and how to be good and positive and do well in school," said Shauna. He gives them hugs when they are sad - and also never stops telling his silly jokes and stories, making us all laugh as a family again!"
Noreen suffers from arthritis in her knee but still gives the boys cuddles and tickles
and helps them with their homework.
By the time Shauna returns from work at 10pm, their lunches are made and the ironing is done.
My two boys are a credit - they are strong, healthy, happy children (8 and 14 now) and have good grades and made friends here," said Shauna.
"But all this is only possible because of the support and the example of their grandparents. Often the boys have to stay over their grandparents house, and instead of 'Count Down' being on (which dad loves), they are handed the TV controls and 'Sponge Bob Square Pants' is blaring instead - mum and dad just sit back and enjoy their grandsons being happy.
These last four years have been so hard for the boys without their dad and they miss him every day. So much hurt and loss could have damaged their lives permanently. The boys don't see what their grandparents do because it is given them so freely- mum and dad are the tireless team working behind the screens without any recognition, so that our lives run smoothly. I would love to give them centre stage for once and show them how much we appreciate everything they have done."
Joe added: "We don't do any more than anyone else. Shauna has sisters who help us with the children as well.
"The two boys gave us so much joy back it is really a joy for us. If we cannot do it for our family who can we do it for?"
Ulster Star
25/05/2012