'Remarkable' Hazel amazed to win `Best Carer' award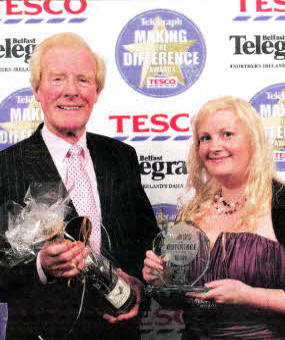 Hazel is presented with her award from Dr Cecil Stewart, Chairman of the North West Healthcare Group sponsor of the category.
A LAMBEG woman who has dedicated the past seven months to caring for her ailing husband has received the 'Best Carer' award at this year's Making The Difference Awards. Hazel McFarlane (34) from Woodland Avenue has been a sole full time carer for her husband Gordy, a bowel cancer sufferer, since September last year.
Gordy, a lorry driver with World of Furniture, was diagnosed six years ago with bowel cancer and had operation and chemotherapy. But then in January 2011 he was diagnosed with an inoperable tumour.
Since then he had four bouts of chemotherapy and suffered a chronic reaction to the last bout of chemotherapy in September and had to stop. It was a month after the couple, who have been together for four years, wed at an intimate ceremony in Scotland.
Gordy, who also suffers from a bowel fistula, takes up to 12 tablets and pain killers per day.
Although he is in a wheelchair the couple are not housebound and try to get out as much as possible.
Hazel, who is her husband's sole carer, also gets help from a district nurse, Marie Curie nurses and Cross Road to allow her to spend quality time with her 14 year old son, Matthew.
The Learning Support Worker for students with severe difficulties at the Belfast Met College was given the award as a special ceremony at the Grand Opera House.
"I don't feel that I do anything special - I just look after my husband who is a true fighter," said Hazel.
"I was in shock that I got that I got the award. There are so many other people who I felt were worthy winners.
I look after my husband. It is nothing special and I do not expect an award for what I do. I just feel that if my husband was well enough I would not need this award. It is lovely to get it and to be recognised but I did not expect it."
Beverly Craig, carer coordinator with Northern Ireland Hospice who nominated Hazel, said people who meet her are simply in awe of her strength and dedication to her husband to ensure he has the "best quality of life".
She said: "In a nutshell, Hazel is remarkable. She came along to a Hospice carers support programme and managed to inspire the staff and other carers. Hazel cares, without regard for herself, and I would love to see her get recognition she richly deserves. Hazel's love for her husband is truly humbling."
Ulster Star
06/04/2012