Students grill minister on health issues
by STACEY HEANEY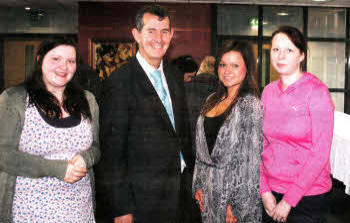 Health Minister Edwin Poots with Health, Social Care and Eady Years students on his recent visit to South Eastern Regional College's (SERC) Lisburn Campus.
HEALTH Minister Edwin Poots has told students his experiences of education and career from a personal perspective during a question and answer session with students at South Eastern Regional College's (SERC) Lisburn Campus.
Mr Poots told Health, Social Care and Early Years students about his decision to go into politics and taking up post as Health Minister.
He explained the extent of his role as Health Minister, discussing the issues and challenges around health and social care and answered a number of questions, which ranged from protecting life in early years, to caring for the growing ageing populations.
The Minister had earlier been given a guided tour of the campus by Ken Webb, Principal and Chief Executive at SERC.
He said: "It has been a pleasure to meet with so many inspiring students, who asked a wide range of insightful questions and were keen to hear how we are coping with the many challenges currently faced within the health service."
Discussing the future of the health service in Northern Ireland, Mr Poots said: "In Northern Ireland we face a number of growing pressures, for example a challenging financial climate, a growing ageing population and an increase in chronic conditions.
"If we are to deliver an effective health and social care system in future, we must change how we do things. The Review of Health and Social Care, 'Transforming Your Care', will bring about the greatest change our health service has seen, with more focus on the individual and a move away from hospital care to primary and community care.
" Health and Social Care student, Ciara Devlin, said she had enjoyed the talk: "It was great to hear how the Minister is tackling the range of challenges in the industry and the many and varied careers that are available within health and social care" she said.
"I also had the opportunity to meet the Minister and he was very helpful in answering our questions. He took the time to explain to us how about how the skills we are learning today will benefit the local and wider communities in the future."
Michelle Devlin, Head of School for Health, Care and Early Years at the College, said: "We are delighted that we had the opportunity to meet with the Minister to discuss the progress that has been made within health and social care and to reinforce the importance of our college campus to the communities."
stacey.heaney@ulsterstar.co.uk
Ulster Star
09/03/2012