Health Minister has high praise for Lisnagarvey High School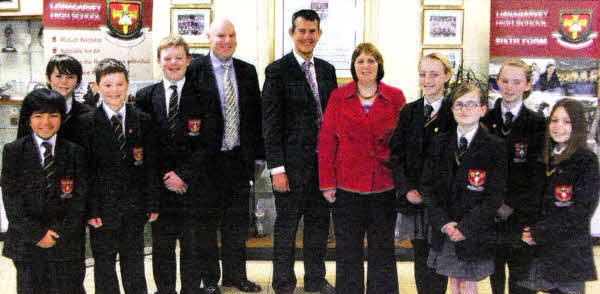 Health Minister Edwin Poots with Lisburn Councillor Jenny Palmer, Lisnagarvey High School Principal Mr Jim Sheerin and pupils from the school
HEALTH Minister Edwin Poots has praised Lisnagarvey High School after a recent visit. Mr Poots, who was joined by Lisburn Councillor Jenny Palmer, met Year 8 pupils and took a tour of the school premises to see the ongoing success both in enrolment and in attainment.
The school recently received recognition for its community work, being awarded the
'Community Education Partnership Award' by, the Housing Executive and Queens University Belfast. Mrs. Palmer acknowledged the commitment that the Governors and the school has made in working with the wider community. The school has now entered its fifth year where its facilities are open to the a range of Lisburn groups during evenings and weekends.
Other highlights discussed were the schools application for planning permission to provide a 3G sport facility for the use of the pupils and the community as well as the increased enrolment of pupils. The school has almost doubled in size over the past four years and has made a formal application to increase enrolment as it is expected to reach its capacity of 500 pupils by October 2012.
Principal Jim Sheerin highlighted the school's ongoing academic success to both politicians citing A level results where 64% of students attained better than 3C grades and our best two students achieved 3 A grades. GCSE results have improved and just under half of last years pupils achieved GCSE success of between 5 to 11 awards at A* -C. The highest achievement last year was Jamie Adams who attained 11 GCSE's including 4 A* and 5 A grades.
"I was impressed with the results in the last year at Lisnagarvey," he said. "The numbers that are getting five GCSEs and more have risen quite dramatically, with one pupil having received eleven GCSEs.
"The school has been on an upward trajectory for some time now, both in terms of numbers attending and outcomes. That is something that is to be warmly welcomed.
"Lisnagarvey, I believe, has a very positive contribution to make in future years in providing quality education to the wider Lisburn community."
Ulster Star
13/01/2012