Mother urges public to back heart campaign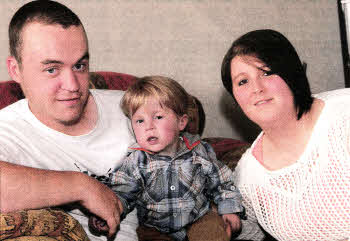 Steven Curran and Jenna McConnell with Reece Curan.
A LISBURN mother whose baby son is awaiting life saving heart surgery is calling on the public to support the Heartbeat Trust Hands Up campaign. Jenna McConnell (22) whose one-year-old son Reece was born with pulmonary heart disease and will one day need open heart surgery is supporting the campaign to protect paediatric cardiac surgery in Northern Ireland.
Heartbeat's campaign began after a report published recently by the Minister of Health Edwin Poots on the Safe and Sustainable review into children's cardiac services in Northern Ireland stated that it should cease due to issues regarding sustainability.
Jenna, like the many parents and members of Children's Heartbeat Trust, fears that any attempt to close children's heart surgery in Belfast would mean youngsters like Reece would be forced to travel hundreds of miles to another centre in the UK or Dublin.
Reece was just hours old when doctors found that he was suffering from a heart condition and at first believed that he was suffering from a murmur. When Jenna was expecting, a 32 week scan showed doctors at Lagan Valley Hospital that her unborn baby was not growing.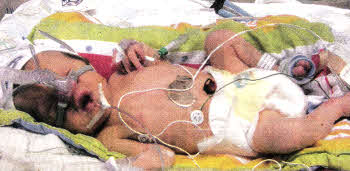 Little Reece in hospital
When her son was born on November 29, 2010, full-term he weighed just 41b 7oz. It was some time during that day when he was just hours old that Reece became increasingly ill. His temperature dropped and doctors noticed that something was amiss.
He was taken to the Ulster Hospital in Dundonald and then to the special baby care unit at the Royal Hospital where he was placed in an incubator and given oxygen.
Scans and tests at the Royal revealed that he was suffering from pulmonary heart disease. For the first few days Reece was gravely ill and his parents were told that he was just too small for
surgeryRe was eight weeks old before he was big enough to have a shunt placed in his heart. He spent most of the day in theatre.
"We were really shocked when he was diagnosed," said Jenna. "The thing was we had never even heard of these heart conditions before. You must expect your child to be born healthy. Until it happens you are totally unaware of any complications."
It was while spending time at the hospital and the Clark Clinic that Jenna and boyfriend Steven Curran realised the extent and need of paediatric heart surgery in Northern Ireland.
"If we had to go to Dublin or England I would not have had the support of my family which is very important especially when your baby is going through surgery.
"I don't know what I would have done without them," she said.
Reece who now stands at just 171bs will have to wait until he is slightly bigger before he can have corrective surgery on his heart. He will require ongoing cardiac care before he will can have open heart surgery.
Doctors are very happy at the way things are going and how he is improving," she said. "He is still tiny and cannot walk. We were told that he could be two or three before he can have further surgery but it will depend on him putting on weight.
"He has been dogged with infections like chest infections, and had bad reflux. Apart from his blue lips he just looks like a normal child though he definitely needs the surgery. If he had to go else where I just do not know what I would do.
It is so important to have your family close with you which is why it is important that surgery for children remains here. When your child is so ill it is good to have family around you. You do not want your family to be away from you the time that you need them the most.
Ulster Star
31/08/2012