HEARTBROKEN COUPLE GET TO VISIT BABY SON'S GRAVE
AFTER 55 YEARS
`It took a lot out of us but we have found our son again'
by STACEY HEANEY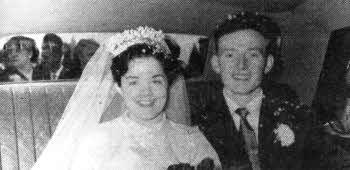 Kathleen and Jim Chambers on their wedding day in July 1956.
A FORMER Dunmurry couple have come home to visit the grave of their stillborn son for the first time in 55 years after recent research finally identified the site where he was buried without any funeral.
Kathleen and Jim Chambers, who now live in England, visited the site in Milltown Cemetery where countless babies and adults are buried in mass plots.
Kathleen, 76, became aware of the situation a couple of years ago, having seen a television show on Milltown's 'Limbo Babies', leading her to find Toni Maguire, an archaeologist who has helped the couple track down the plot of their beloved son. who was stillborn on March 23, 1957 at Belfast City Hospital.
Whilst Kathleen was left fighting for her life, being given only a 50/50 chance of survival after giving birth at seven months, her husband Jim, 78, had the harrowing task of seeing his son 'dumped' in the site in Milltown.
For many years the site was a car park and it has only now been transformed back into a grave. Whilst the ground in the cemetery has been blessed by Bishop Noel Treanor, the couple and their family are calling for more to be done.
They want to see the ground consecrated by the Church, whilst a battle remains to ensure that the land is not sold and the graves dug up again.
Kathleen said: My baby was called a 'Pagan' baby and I was said to be 'polluted'. If it hadn't been for the work of Toni, we would never have found our son again.
"We want as many families to come forward about this. The more people who report a brother, a niece, a child, then the more awareness we can bring and we can stop them from causing any more suffering by digging up the site again. Some people are buried under the motorway already.
"There are people from America coming to find loved ones, people from England, there are people all over the world, we just need them to come forward.
"Some of the stories we have heard are horrendous. Where was the compassion?"
Speaking about the harrowing task her husband Jim faced as he buried his infant son, Kathleen said: "Jim went to the mortuary to collect our baby and the man asked him why he was collecting him, he said most were just left and then burnt.
"The place was filled with mummified babies, he said it was like a doll shop. Jim was asked if he had seen the baby and when he said he hadn't they sliced the little mummified suit open and he saw him. Jim said he was beautiful, just perfect.
"Jim and my father bought a little box and were told to take him to Milltown. When they found the gravedigger, they handed him over and as he bent down, Jim thought he was going to set him into the grave. Instead, he just threw the box into the grave and Jim heard the splash of the water and the thump, that is the last memory he has of our son.
"I feel so much anger about it. For seven years I left the Church, but no-one will come between me and my God again."
Jim added: "I thought I would be okay visiting the site again, but it was very difficult, it took a lot out of us, though I feel good I have found my son again.
Our baby was created in love, we were a married couple and as Christians, our baby should have been Baptised through us.
"The church tells people abortion is wrong and they refuse to allow people to have an abortion, saying you are taking a life, yet our baby was called a 'Pagan baby and Kathleen wasn't allowed to attend Church again because she had to be 'Churched' or cleansed, before it was deemed fit that she was again ready to take part in everyday life. It is inhumane.
"I know my baby is in Heaven, and I know I'll see him again there one day," Jim concluded.
Speaking about the project and the impact it has had, archaeologist Toni Maguire said after speaking to Jim and Kathleen. 'As I watched the outpouring of emotion from a mother unable to speak and a father who told me that he is haunted by the 'splash' as the gravedigger took his baby son from his arms and tossed' the small cardboard box into the water filled hole which had been dug in the rubbish dump which was the six acres, it was too much even for me and I could do nothing but cry with them. The church need to recognise that this is not just about taking back a couple of acres of land.
This issue is about responsibility; the responsibility we have to each other as members of society to show compassion and solidarity in a time of need, the responsibility of our church to fulfill their duty of care and protection for the dead and minister to the needs of those left behind and allow these families to have some closure. It is even about the responsibility we have as professionals and the use of applied archaeology and anthropology as a means of advocacy in helping to resolve such issues."
If you have been affected by something similar, or are trying to track down the grave of a loved one, you can contact Toni Maguire at mmaguire19@qub.ac.uk
stacey.heaney@ulsterstar.co.uk
Ulster Star
13/04/2012