The world of the Private Investigator
(and it's not what you think)
by JULIE-ANN SPENCE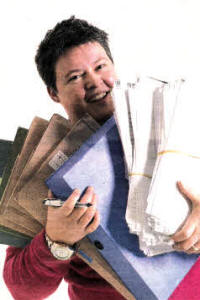 Heather Nesbitt
ROOTING out industrial espionage, tracking down debtors and sweeping houses for bugs placed there by a suspicious partner.
They're just a few of the tasks undertaken by Lisburn-born Private Investigator Heather Nesbitt. However, Heather insists her job is nothing like the 'gumshoe' image so many people have.
Heather, a former pupil of Central Primary School who moved to England as a child, set up her business in Hertfordshire after leaving the police force.
"I left the police five years ago and started my own investigation company," she explained. "It seemed like a natural progression. It's really just helping people."
Whilst many people think the world of private investigators is cloak and dagger, with people hiding in bushes trying to catch someone out, Heather says the reality is rather different.
"The work is really varied," she continued. "We can be helping solicitors, doing statements for them, we can be serving documents from the court or doing surveillance work.
"We also search houses and businesses for bugging devices that clients may feel are in their property. We get a lot of that from divorced couples or because of industrial espionage."
One aspect of her work that Heather loves is the opportunity to train people, including new private investigators and even children, who are thrilled to learn about her work.
"We recently held an event at a local public playground for forty schoolchildren,' Heather explained.
"They carried out a crime scene investigation, learnt how to take finger prints, follow clues and take photographs. They each got a CSI badge and an 'evidence' goodie bag to take home."
Heather's business has been going from strength to strength over the years and she is hoping to branch out and open her first office in Northern Ireland.
"The business has been going really well," she continued. "I was over a couple of weeks ago speaking to solicitors in Lisburn. We are hoping to offer our services in Northern Ireland with a view to employing people in Northern Ireland and establishing an office there," she concluded.
julieann.spence@ulsterstar.co.uk
Ulster Star
10/02/2012