Local councillor packs his bags to help Age NI
by STACEY HEANEY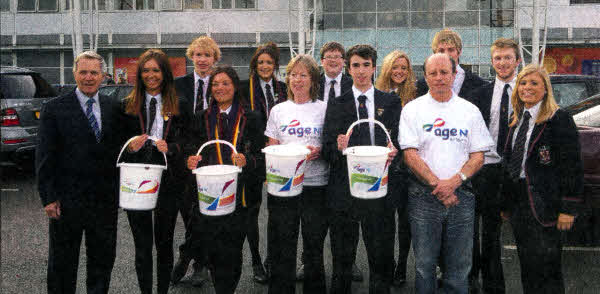 Councillor Brian Bloomfield with Age NI volunteer Alan Madill, Age NI marketing assistant Dorothy McConkey and upper sixth pupils from Wallace High School at the recent bag pack.
A LISBURN Councillor has pitched in at a charity bag pack with students from Wallace High School to raise money for Age NI.
Councillor Brian Bloomfield was representing Lisburn City Council at the fundraiser in Sainsbury's which raised almost £800.
Mr Bloomfield said: "I was very pleased to do what I could to help, such a valuable charity. The bag-packing was great fun and I'm also very happy that Lisburn City Council will be working closely with Age NI in the future.
"Age NI is concerned with the interests of older people in the community. This new organisation came about as the result of a merger between the long-established and well-known groups, Age Concern and Help the Aged.
"Last year Age NI helped over 42,000 older people directly through delivering services and providing advice. Presently Age NI is running a Spread the Warmth campaign to make winter better for older people. In particular it is trying to provide support to tackle the loneliness, poverty and ill-health which winter means for many people in later life."
He continued: "Fund-raising is an essential part of the work of Age NI and the organisation is especially grateful to Sainsbury's for allowing them to do a 'bag pack during the week before Christmas and the group of Upper Sixth pupils from Wallace High School who volunteered to help."
Siobhan Casey, Director of Marketing at Age NI added, "People throughout NI have been helping us Spread the Warmth through donations, coffee mornings and by doing something kind for our older population. This time of year can bring many challenges for older people, and this kind support from Sainsbury's, Councillor Bloomfield and the pupils of Wallace High School will help us continue to improve winter for older people in Northern Ireland."
stacey.heaney@ulsterstar.co.uk
Ulster Star
06/01/2012