Colin hoping for no repeat of 'sole' destroying boot failure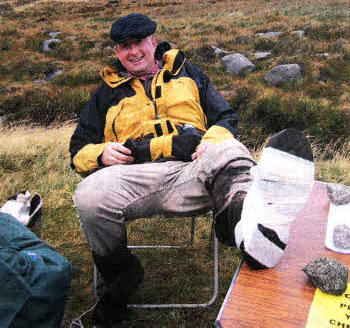 Colin Reid
HILLSBOROUGH man Colin Reid, NSPCC Northern Ireland's policy and public affairs manager, is hoping to redeem himself at this year's Hike Against Cruelty to Kids (HACK), after being 'rescued' from the route last year when his boots fell apart.
Limbering up for the September 15 event in the Mournes, this year in association with SPAR, the local man is determined to prove to colleagues that this year he has got what it takes — robust footwear: "I have a lot to live up to in this ear's HACK" Colin said. "There's a 14 or 20 mile route, either of which will see me walk significantly further than I managed last year.
"In 2011 I put my best foot forward, but it didn't quite go as planned. I'm not a walker but I do play a lot of sport, including badminton for Hillsborough Presbyterian and tennis for Downshire. As far as I was concerned, 20 miles would be a walk in the park.
"I soon found that my confidence was misplaced. Having covered eight miles, I found myself somewhere above Hare's Gap, only to look down and see the sole of my walking boot coming away.
There I was, miles from anywhere, effectively in my socks. I think the phrase is, 'sole-destroying'
"The kind first-aid people gave me a temporary repair - a first in their experience - and I was whisked off the mountain on a quad by the excellent rescue team who were on standby for the event.
"You can image the ribbing from my NSPCC colleagues. So 'be prepared' is my motto for this year and, yes, I have bought new waterproof boots." Encouraging others to sign up for the annual challenge walk, Colin said that all contributions are gratefully received: "It's a great privilege to work for an organisation that makes a meaningful difference for children in Northern Ireland. By signing up for the HACK, I feel I'm doing a little bit extra, while pushing myself to achieve in a new direction. Good fun for a good cause."
The HACK is open to people aged 18 years and over. The registration fee is £20 for the.20 mile challenge and £10 for 14 mile challenge. For further details and online registrations and payments, please log on to www.nspcc.org.uk/mourneshack or contact the Northern Ireland NSPCC fundraising office on 028 90 351135. Final registration date- is 30 August 30.
To make a donation of £4 to the NSPCC/ChildLine, text NIChild to 70744.
Ulster Star
10/08/2012