Help wanted on Home Guard service
by STACEY HEANEY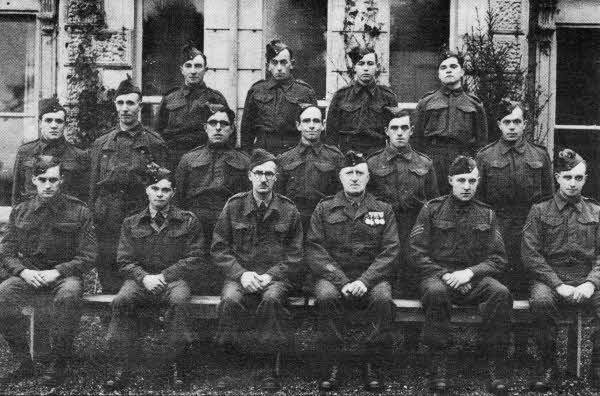 The Home Guard photo, which is believed to have been taken somewhere in Hillsborough. Back row: All unknown. Middle row: Unknown except last on right who is one of the Rutherford brothers who ran a grocers shop in Market Square, Lisburn, up until the 1970s. Front row: Second from left is the second Rutherford brother. Raymond believes the third from left is _ Maginnis (first name unknown) who was a solicitor and an MP in the Stormont Parliament at some stage. Second from right is Raymond's father Sgt James Munce Morrison.
LOCAL people are being asked for their help in providing information about the Home Guard in Hillsborough.
Armagh man Raymond Morrison is hoping Star readers can help him to learn more about his father, James Munce Morrison's time with the unit in Hillsborough.
Raymond said: "I am currently researching my late father's service in the Home Guard. Unfortunately, PRONI, which holds Home Guard records, is unable to find anything about him.
"My father was born in Cargycroy on February 17 1917. During the war he worked as a fitter in the Northern Ireland Road Transport Board at Hillsborough Road, Lisburn (now the Ulsterbus depot).
'As far as I know his Home Guard Service was in Hillsborough, although his ID card was signed by the Captain Adjutant for OC 4th Antrim Btn. In the photo he is wearing the uniform of a sergeant, so I presume he had already been serving for some time and probably continued until the Home Guard was disbanded. The only other thing I know of his service is that his unit was inspected by King George VI at a ceremony at Hillsborough Castle and that the King spoke to him and actually shook his hand.
"I would be grateful for any information people can provide, or failing that, if they could point me at any source which may throw some light on the Home Guard in the Lisburn/Hillsborough area."
If you know anything about the Home Guard in Hillsborough, or can help Raymond to find out more information about his father's service you can contact him at raymond.morrisonl@btinternet.com
Ulster Star
20/01/2012