Hillsborough International Oyster Festival 2012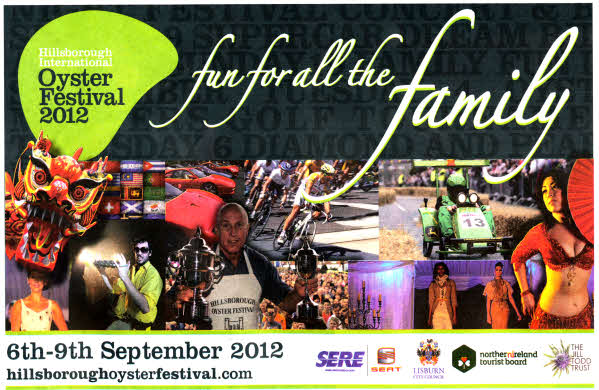 In 2012, the world-renowned Hillsborough International Oyster Festival celebrates twenty years of fund-raising, food and festivities with a packed programme of activities and entertainment. Set in the historic, picturesque Georgian village of Hillsborough, Co. Down, the Festival is now rightly recognised as one of Northern Ireland's premier events, attracting thousands of visitors each year from all corners of the globe.
On Saturday afternoon, the whole village will be closed to traffic and the streets will become filled with stalls, music, family entertainment and, of course, oysters! We have plenty of events organised for this year and our unique, Ulster hospitality is bound to ensure that a truly remarkable Festival experience and a great weekend is had by all.
For those who like a bit of competition, the World Oyster Eating Championship is one of the Festival's main attractions, taking place on the main stage at 3.00pm on Saturday 8th September. If it's great, locally produced food and drink you're after, the Festival Marquee will be packed with stalls offering delectable samples of Ulster's gastronomic delights.
A full list of what's on is available by visiting the `Events' section of the website. Apart from providing great fun, quality, local food and a variety of entertainment to suit all ages, as always the main purpose of the Festival is to help raise money for a local charity. This year's nominated charity is The Jill Todd Trust, details of which can be found by simply clicking on the link at the top of our home page.
So make a date in your diary for the Hillsborough International Oyster Festival 2012, as it's sure to be the biggest and best yet.
Festival Events
THURSDAY 6TH SEPTEMBER Fashion Show and Miss Oyster Pearl
NI Heats of Oyster Eating Competition
FRIDAY 7TH SEPTEMBER Titanic Gala Ball
SATURDAY 8TH SEPTEMBER
Soapbox Derby
Rainbow Parade
Gourmet Food Market
World Oyster Eating Competition
Live Concert & BBQ
SUNDAY 9TH SEPTEMBER Supercar Sunday
---
'Diamonds and Pearls' Fashion Show comes to Hillsborough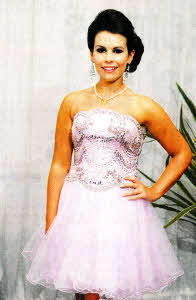 Last year's Miss Oyster Pearl Rachelle Liggett
GLAMOUR and glitz will be very much on the menu at this years Diamonds and Pearls Fashion Show in Hillsborough.
The evening will showcase The Outlet's latest autumn / Winter 2012 looks and will include exclusive bridal wear from Petticoat Lane.
As well as a night of style and sophistication, the Fashion Show will see the culmination of the Festival's Miss Oyster Pearl Competition, 2012. Finalists in this year's competition will take to the runway alongside professional Style Academy models, when they will get a chance to impress the celebrity judges, and the public, with the winner being crowned at the end of the evening.
The Outlet, Ireland's largest dedicated outlet centre, will showcase brands such as Jaeger, DKNY Jeans, LK. Bennett, Calvin Klein Underwear, Paul Costelloe and Jeff Banks.
At the show, there will be the opportunity to browse through a range of' designer brands at pop up stands within the marquee and our beauty gurus will be on hand to offer expert advice and suggest complementary products.
The Miss Oyster Pearl finalists participating in the show will be coached and choreographed by Tracey Hall; director of Northern Ireland's premier model agency, Style Academy and the artistic team from Toni & Guy will be in charge of creating hair in their own inimitable style. Clare McKinney will take the reins as chief make-up artist, whilst Cool FM's Connor Phillips will be hosting the Show.
All money raised will go to the Festival's nominated local cancer charity, the Jill Todd Trust. The Trust was established by Hillsborough residents Trish and Barrie Todd to commemorate their daughter, Jill, whose life was tragically taken by cancer in October 2010. Jill was a newly graduated photographer,
only just beginning her career when she was diagnosed. The Trust works to promote and aid amateur and student photographers around the UK and Ireland, while at the same time raising money towards researching and finding a cure for the disease, Which ended It will be a night of entertainment and glamour through which it is hoped to raise substantial funds in aid of this worthy, local charity. The event is being held in the Festival Grand Marquee on Thursday September 6. Doors open at 7.00pm and showtime is 7.30pm. Tickets are priced at £15.00, which includes drinks reception, supper plates and goodie bag.
Tickets can be purchased at Hillsborough Tourist Information Centre — nieafnfo@doeni.gov.uk / 028 9054 3030 or Lisburn Tourist Information Centre — tic.lisburn@lisbum.gov.uk / 028 9266 0038
More information relating to the Festival can be found at www.hillsboroughoysterfestival.com
---
Dream car takes centre stage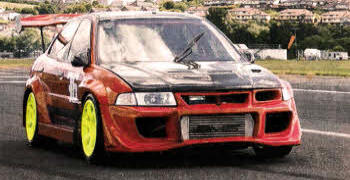 Kenny Wylie's amazing 800 horsepower Mitsubishi Evo 5.
KENNY Wylie's Mitsubishi Evo 5, which recently won the Ultimate Street Car prize at Santa Pod Raceway in England, will star amongst the Ferraris, Porsches and other exotic cars at the Hillsborough Oyster Festivals Hollybrook Sports Cars/Momentum Motorsports Supercar Dream Ride event on Sunday, September 9.
Based at the Sprucefield Park & Ride the public will have the opportunity to have their photographs taken with their favourite Supercars and to go for a short trip in the passenger seat of some amazing machines.
Rides in Kenny's amazing 800hp machine which goes from standstill to 60mph in 2.5 seconds, and reaches 100mph in 4.5 seconds, will be auctioned by celebrity auctioneer Andrew Nesbitt, the former Irish Tarmac Rally Champion and the multiple winner of the Donegal International Rally. For as little as £5 the public can get a trip in the car of their dreams, trips in Ferraris cost no and the rides in the Super Duper Cars like the Mitsubishi go to the highest bidders.
All the proceeds go to the Oyster Festivals designated charity the Jill Todd Trust that aids cancer research.
Owners of Supercars wishing to take part should contact Tyndall Productions at 028 9268 9444 for registration forms.
Driver Registration takes place at noon on Sunday 9 and the event opens at 2pm to the public and runs to 6 pm.
Tickets can be purchased at Sprucefield Park & Ride from 1.30pm on the day.
The organisers would like to thank the PSNI, Hollybrook Sports Cars, Momentum Motorsports, Carsport Magazine, Saville Motorhomes, Charles Hurst Toyota, and the Hillside Bar for their assistance in running this event.
Ulster Star
31/08/2012