Hope greets Prince Harry with a lick of approval
by JENNY MONROE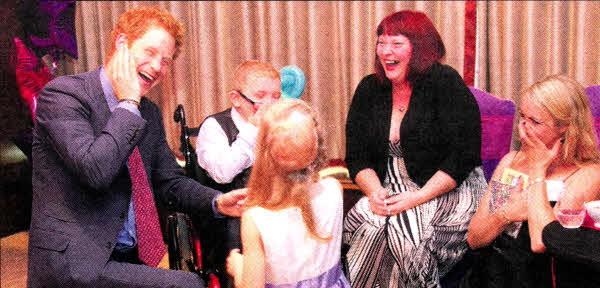 When Hope met Harry. This Is the moment when the Lisburn girl gave the Prince a lick on the right cheek.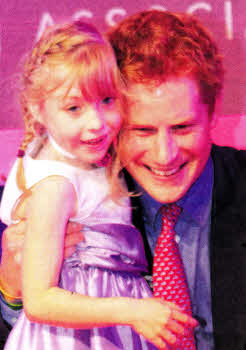 Hope Hillis left her mark on Prince Harry when she met him at the Well Child Awards in London in more ways than one. Hope, who has endured over 50 major operations, was named as a winner at the ceremony.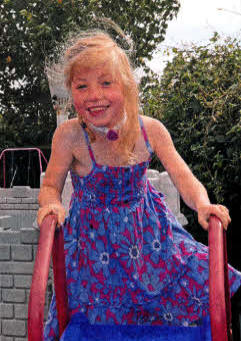 Hope Hillis. INUS360HOPE3
A REMARKABLE little girl from Lisburn greeted Prince Harry with a big lick when she was rewarded for bravery with a national WellChild Award.
5-year-old Hope Hillis licked the right side of Harry's cheek, to which he laughed and joked: "We've only just met."
When she gave the royal a second lick, minutes later, he touched his cheek in mock horror. "That's a great compliment from Hope, a lick on the side of the face, that's better than a kiss," added her mum.
Hope was named as a winner in the prestigious national 2012 WellChild Awards, in association with GlaxoSmithKline, after being nominated by nurse Carol Gregg.
Hope, who has endured months in hospital, over 50 major operations and needs ongoing daily care because of serious complications from being born too soon was picked from hundreds of nominations from across the UK to win the category of Inspirational Child in these Awards which celebrate the courage of children coping with serious illnesses or complex conditions and honour the dedication of professionals who go the extra mile to help sick children and their families. The Awards are run by WellChild, the national charity for sick children.
Doctors gave Hope 24 hours to live when she was born at 24 weeks but she fought back against all odds, despite complications including meningitis, major brain surgery during which she suffered a cardiac arrest and spite of fears that she might never walk or talk Hope is now a bright, cheerful little girl, doing really well at school and loving life at home with her Mum and Dad, Sarah and Sam, her brother Luke, sister Imogen and her menagerie of pets which includes lizards, parrots, goats and horses.
Carol Gregg who nominated Hope for the Award having met her in The Royal Belfast Hospital for Sick Children where she works as a nurse said: "Hope is a bright spark who refuses to be extinguished. She has faced everything that has been thrown at her with such courage and positive spirit. Hope truly deserves this recognition of what a special little girl she is."
With hundreds of nominations received from across the country, the difficult job of choosing winners in all 17 WellChild Award categories is given, each year, to an esteemed panel of judges. That panel consists of leading health professionals and others with an interest in children's health.
WellChilds Director of Programmes, Linda Partridge, is also a member of that panel. She said: it is a tremendous challenge to select winners from the many, many truly amazing nominations we receive from all over the country. All the panel members are moved by the bravery of the children, the stories of selfless care and support and the dedication of the doctors, nurses, teachers, brothers and sisters who make a great difference to the lives of sick children. Hope truly deserves to be the winner of this award.
Ulster Star
07/09/2012