Locals hoping to be `top dog' at Crufts
by STACEY HEANEY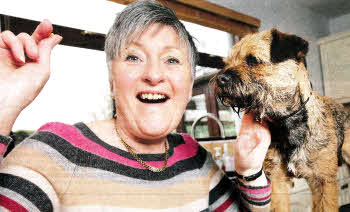 Margaret Armstrong, from Hillsborough, with Border Terrier champion Darcie (full name Champion Blewecourt Manhattan at Ploughdown), getting ready for next month when Margaret will head off to show Darcie at the Crufts Dog Show, held in the NEC, Birmingham. US0812.527cd
A NUMBER of local people are hoping they will be 'top dog' when they compete at Crufts next month.
The famous dog show is on at the NEC in Birmingham from March 8-11 and a number of local people and their prized pooches will be taking on the challenge as they hope to walk away with a prize or eyen scooping the prestigious 'Best in Show'.
Over 21,000 dogs from all around the UK and overseas are warming up to take their place at this year's show.
As well as the prestigious Best in Show final, dogs and owners will also be competing in a variety of competitions including the International Agility Championship and the popular Friends for Life contest, full of heart-warming stories of friendship in adversity, where dogs have truly earned the title of man's best friend through bravery, support or companionship. This year the show will once again be televised on More4, with two and a half hours of coverage every night.
Amongst those taking part is Hillsborough woman Julie Welch , who will be travelling to Crufts with her daughter Amy for their third year of competing.
Amy, a student at SERC in Lisburn, will show their three Dalmatians Lily, 0llie and Snow in the breed classes.
Julie said the pair are looking forward to Crufts once again. She added:" 'Amy is studying an Animal Care course in Lisburn at the moment as well so it will be good experience for her."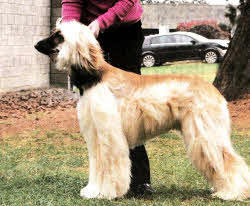 18-month-old Afghan Hound Buffy, Metewand Onlione at Zilbec Ir Jun Ch, will compete at the famous dog show for the first time.
Mrs. Elizabeth Beck, who lives in Annahilt, will be putting her Crufts experience to good use as she brings her 18-month-old Afghan Hound Buffy, Metewand Onlione at Zilbec Ir Jun CH to the show for the first time. Mrs. Beck said: "I've been before, but this is her first time. I am looking forward to it, Crufts is the biggest show and you have to qualify to get there, so you can't just turn up. A lot of hard work has already gone into it, but Buffy will perform well, it will just be up to the judge on the day."
Lisburn woman Angela Willis and her daughter Emma will be making their annual trip to Crufts with four of their dogs, two Giant Schnauzers George and Zev, Miniature Schnauzer Murphy and Border Collie Danny. Angela said: "I'm really looking forward to it, I love it, it's brilliant.
The whole weekend is good craic and there's such a good atmosphere. Its good fun and the hotels are great too because they allow the dogs into the rooms; it's their holiday too."
Angela's daughter Emma will be showing Miniature Schnauzer Murphy in the Northern Ireland Interregional Obedience team on the Thursday, whilst Border Collie Danny will be shown on Friday by Emma, who is a member of the Young Kennel Club Obedience team.
Meanwhile, George and Zev, the two Giant Schnauzers will be shown in the breed category on Saturday.
Hillsborough man, Mr Eric Armstrong was due to travel with his two Border Terriers, but his wife Margaret will now go to the contest with just one dog, Darcie, otherwise known as Blewecourt Manhattan at Ploughdown, whilst Eric remains on "maternity duty" with his other dog Chloe, otherwise known as Badgerbeck Blizzard at Ploughdown.
Eric explained: "We were supposed to go with our two dogs, but one is now pregnant. She is due puppies the week of Crufts so I'm attending a maternity unit."
Speaking about Darcie, he said: "This dog won last year at Crufts so she is going back as champion. There are 180 Border Terriers in the breed and she finished champion of her age group so we were really pleased.
"Crufts is absolutely wonderful. We attend around half a dozen championships in England, Scotland and Wales throughout the year, it is not just a hobby anymore, it has become a way of life.'
stacey.heaney@ulsterstar.co.uk
Ulster Star
24/02/2012