Irish Guards concerts at the Island Arts Centre are sell-outs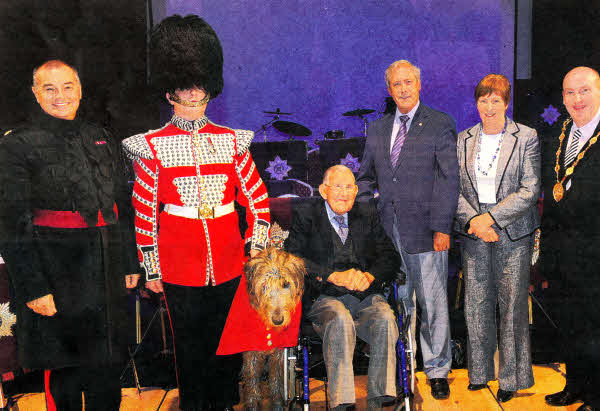 Pictured at the Irish Guards Concert held at Lagan Valley Island for the Mayor's Charity `Stepping Stones' are (l-r) Major Wayne Hopla, Drummer Steed; `Conmael', Irish Guards Mascot; Mr John Mackin, Veteran Irish Guardsman; Councillor Uel Mackin; Mrs Jennifer Mackin; The Mayor, Alderman William Leathem and Mayoress, Mrs Kathleen Leathem.
TWO musical evenings on 30th September and on 4th October at Lagan Valley Island with the Band of the Irish Guards saw the Island Hall packed to capacity.
Tickets to the events were free of charge, with a collection taken on both nights for the Mayor's Charity, Stepping Stones.
The Mayor, Alderman William Leathem, said: 'Almost £3,000 was collected from the two nights' musical performances. I am overwhelmed with the generosity of members of the public who contributed towards my Charity.
"Tremendous thanks are due to the Band of the Irish Guards. The music went down an absolute treat and I have had so many compliments about the events. There was also poignancy to the events as I met and heard many accounts of personal experiences from now-retired serving personnel.
I would like to extend my thanks to Lieutenant Col Huw Morgan from Headquarters 38 (Irish) Brigade and to our Director of Corporate Services, Mr Adrian Donaldson, who both worked very hard to get the concerts organised. I appreciate the widespread public interest in the shows. and the music of the Irish Guards is to be commended, the atmosphere was absolutely electric.
"I am very grateful to everyone who helped make the night a success," he concluded.
The Mayor's chosen charity, Stepping Stones, is based at 39 Seymour Street in the City and supports people with a learning disability or learning difficulty to fulfill their individual work potential. The organisation's objective is to fully integrate persons with learning disabilities and learning difficulties into society.
Ulster Star
12/10/2012