The Red Carpet is rolled out at the Belfast Film Festival
Priory College Pupil hits the big screen!!! June 6th, 2012.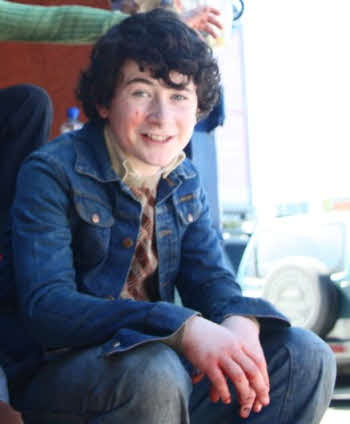 Jamie Scott
Fourteen year-old Jamie Scott, a year ten pupil at Priory Integrated College, Holywood is due to make his debut on the "big screen" tonight at a gala screening of the film "Shadow Dancer", 6th June 2012 at the Movie House, Dublin Road, Belfast as part of a number of screenings organised by the Belfast Film Festival.
Jamie's grandmother, Nancy, resides in the Ballymacash area of Lisburn.
Jamie at an early age was involved with Belvoir Players for a number of years and he later registered with extras agency - Extras NI.
His first introductions to the "screen" were in promotional videos for 2008 - Child Contact Centre, 2009 - Family Mediation and 2010 - N.I. Tourist Board promotion.
In April 2011 he was contacted through his mother, Gwen, by Extras NI. They were searching for a youth to play the part of a 14 year old called Gerry (junior) and they were looking someone with dark/brown hair and blue eyes for a new film called Shadow Dancer. Gerry was to play the younger version of actor Aidan Gillen. The part, a minor role, included a speaking part of a few lines.
After attending two auditions, Jamie learnt he had been successful and he was contacted by the Production team to attend costume fitting in Dublin where the film was being made.
He was fitted out with clothes depicting the 1973 era. The film opens in the 1970 era.
Jamie and his mother travelled down to Dublin in June 2011 where he met up with his other "siblings" and his on screen mother played by Brid Brennan. The filming took place over two days at various locations in Dublin. Jamie and his mum stayed overnight in a Dublin hotel during the filming. On set Jamie met Domhnall Gleeson, famous for his role in the Harry Potter film as Bill Weasley.
The film Shadow Dancer, directed by James Marsh is mainly set in the 1990's in Belfast, centres around an active member of the IRA who becomes an informant for MI5 in order to protect her son's welfare. Actors included - Andrea Riseborough, Clive Owen and Gillian Anderson. The film has already been screened at Sundance festival in Jan 2012 and the 62nd Berlin International film festival which was the European premier of the film. It is due for general release within the UK on August 24th.
You can never sure though if your scene has made the film or has ended up on the cutting room floor. Jamie's mother Gwen, spoke on the phone to a lady at the Belfast Film Festival recently and happened to mention the film. The lady informed her she had seen it. Gwen described the scene Jamie was filmed in to see if she could recall anything. "Oh yes," she replied " that was the bit with the wee boy with the curly hair!" Obviously a memorable performance....or a memorable hairstyle!!!
Since the filming of the Shadow Dancer Jamie received a call from the set of the Game of Thrones for a part involving a youth. Unfortunately Jamie was unable to take the part due to his attendance at an ice-hockey camp in Scotland which had been pre-booked and paid for. Jamie's other passion is ice-hockey. He plays for Junior Belfast Giants ice hockey team and also for inline hockey team Northern Cyclones, Bangor.
Needless to say Jamie has chosen drama as one of his GCSE subjects for next year!
Ulster Star
06/06/2012